La Brigada

La Brigada wasn't on my original itinerary, but after taking such a shining to grilled grass-fed beef we had to add another parrilla to our eating plans at the last minute. I wasn't crazy about San Telmo, which seemed to be a favorite tourist neighborhood and felt mildly sketchy. But La Brigada (along with El Desnivel) appeared to be the biggies in the area and seemed worth at try.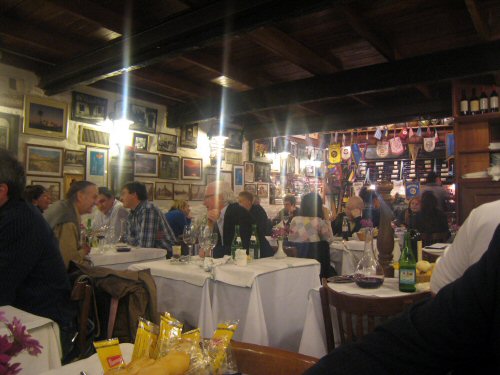 In hindsight, maybe we should've tried El Desnivel because our meal ended up being pricey. Not even close to NYC pricey (my steak was like $16 but I was aware that 50 pesos was hefty by local standards) but still like you were being gouged for choosing a foreigner's greatest hits type place. Well, except the food was good.
Trying to find a source of comparison between La Brigada and La Cabrera (my favorite), I would say that La Brigada is like a Little Italy restaurant if those restaurants actually served quality food, and that La Cabrera would be more like an outer borough creative place like, say a di la. Don't ask why I'm using Italian food to compare Argentine steakhouses.
I was starting to get nervous because my time in town was running out and I hadn't tried a provoleta yet. This had to be rectified since it was our final dinner. When gorging on beef isn't enough, one must make an appetizer of grilled provolone cheese rubbed in olive oil and herbs like oregano (you can buy these ready to cook at grocery stores—we picked one up and ate it cold before realizing its intended purpose). And I must say that this was even better than I'd imagined in my head. Only a freak doesn't enjoy melted cheese. The edges were crusty and added a whole other dimension of aged tanginess. This was no processed slab of dairy. Provoleta is definitely a candidate for best low carb snack ever.
Ok, so I accidentally ordered the bife de chorizo, generally an expensive cut, when I really wanted to try tira de asado (short ribs cut like for kalbi) but first asked a question about the size of the bife to gauge whether full portions here were too much for one (they weren't anywhere near La Cabrera dimensions, one hungry person could handle them) and because of language confusion our waiter wrote down bife de chorizo as my order and I just went with it because I'm even more passive in Spanish than in English.
James ordered the lomo (filet mignon). We knew what this was but it was another weird Argentine wording just how bife de chorizo has nothing to do with chorizo the sausage. In NYC at least, lomo usually means pork.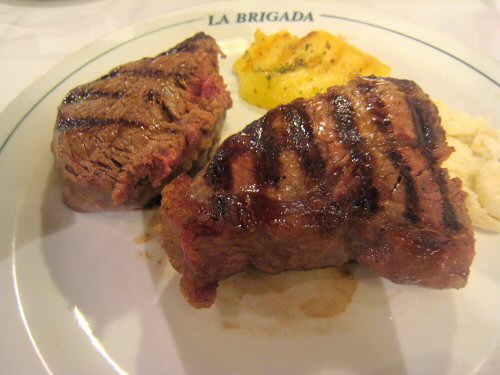 These were some classy cuts of meat and tender beyond belief, as was demonstrated by our waiter who cut the damn things in front of us using spoons for effect. I would never ever utter wretched phrases like "melts in your mouth" or "cuts like butter" but yeah, the spoon cutting was kind of impressive.
Honestly, I prefer gnarlier cuts of meat because they have more flavor. I like fatty blobs, bones and burnt bits on the edges. These steaks were almost too pure for me.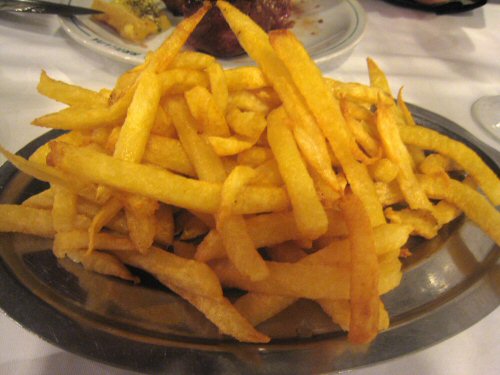 Papas fritas, of course.
And panqueque number two. I couldn't bear to branch out beyond the dulce de leche filled crepe even though everyone else seemed to be enjoying Don Pedros (ice cream topped with whiskey). The waiters divvied everything up here on individual plates.
Afterward, we decided to walk over to Puerto Madero and find someplace to have a drink. I couldn't imagine what this area was like but from descriptions it seemed like a classier Atlantic City boardwalk (the insanely designed Faena Hotel is over there). In reality, it seemed like Battery Park City, and at 11pm on a Thursday, a total ghost town. We could never figure out all the hype in guidebooks about partying and drinking all night. Perhaps we were in the wrong places at the wrong times (later as our cab approached our neighborhood, bars were so packed people were pouring into the street) but things seemed dead everywhere we went and were closed by 2am.
I think we were already fueled by quite a bit of Malbec because we became convinced that the strip of flashy restaurants and new high-rise apartments couldn't be all there was to Puerto Madero. Then James insisted that the Rio de la Plata was just beyond this development and we should go see it.
We ended up along some well-manicured parks that might be nice during the day, but felt eerie when empty. We only encountered a priest, then one lone dog, no owner in sight, standing at the top of a big grassy hill and barking mournfully into the night. I'm not scared of dogs but he was giving me the heebies. I wasn't sure if it was ok to be in this area at night. There weren't proper streetlights and just the occasional car passing by.
But then a lit café with some lingering patrons appeared in a grassy patch and I was all for just stopping there and heading back. But James was convinced the water was just across the road. There was a cement promenade that had a few makeshift stands grilling meat. This was kind of cool because I hadn't seen any street food to speak of in Buenos Aires and am still sad I never tried a choripan. But we were full from dinner. There were a few guys hanging around in folding chairs but I still wasn't sure if this was an ok place to be wandering around in the dark.
The promenade looked like it should be overlooking the sea but as it was pitch black we couldn't see the horizon until we got right up on it and there was only dim grasslands. Huh? I guess the Rio de la Plata was further than we thought. There was nothing more than a big marshy pampas patch that creeped the hell out of me. There were big, wide stairs to go down closer but I was afraid creatures might jump out. Or more realistically we'd stumble upon random sex acts—it was then that I noticed anti-prostitution graffiti stenciled on the cement.
Later, I figured out that this is an ecological preserve and looks much less ominous during the day.
I never know when to be genuinely on guard in foreign cities. After getting robbed in Vancouver B.C. (seriously, Canada?!) years ago, the only city I've ever visited where anything bad has ever happened, I've learned not to be a cocky New Yorker (where you can't always judge a neighborhood's dangerousness based on how ratty it is). If you have a bad feeling you should trust it.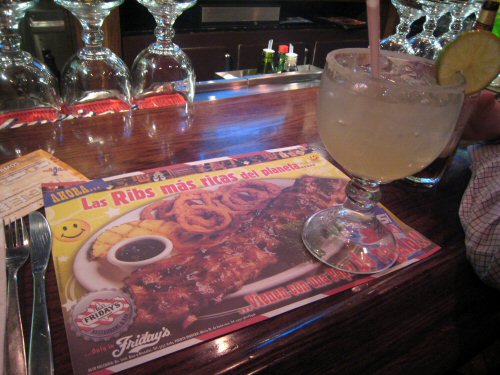 So, we hightailed it back to the populated well-lit docks and couldn't find anyplace suitable for a drink (everything seemed about to close or more of a restaurant than bar). In desperation, I singled out TGI Friday's where I was treated to an expensive margarita that barely tasted alcoholic and was rimmed with table salt. But at least I got to fit one American chain into the vacation.
La Brigada * Estados Unidos 765, Buenos Aries, Argentina