Reds Produce

1/2 Knew this was bound to happen. Reds is no more. (1/10)
At some point–I couldn't tell you when–the name changed to the more fitting, Reds Tapas Bar. (5/09)
I do appreciate new dining options in Carroll Gardens because I have a fantasy of one day getting excited about eating in my own neighborhood. I was curious about this supposedly authentic tapas bar on Columbia Street, though I couldn't find much written about it other than a few not terribly positive mentions on Yelp, a site I don't trust for shit.
Maybe I was just in a good mood because even without well-functioning air conditioning (I don't like my air au naturel when it's sopping with 90% humidity) I enjoyed the place. It's what it is; very simple and inexpensive (most items are $5, the most expensive are sharable $8 salads). This isn't fanciful Spanish food served preciously. What you'll find are mostly room temperature pre-prepared snacks displayed at the bar. Little bites to eat with drinks like at old-school taverns in Spain.
I did make a meal of it. Jessica and I ordered a bottle of Albariño. The weather was just too sticky and gross for something red and tannic.
Though it might not seem so, I'm relatively easy to please and was up for anything on the menu, but to be fair to the vegetarian dining companion I couldn't be too meat-centric because I like sharing. Stuffed vine leaves were her idea and not something I would order because I'm not eating rice, not that fond of dolmas (with the exception of sushi, I think cold rice is creepy) and well, they're not terribly Spanish. I did eat one, though. The creamy feta was nice.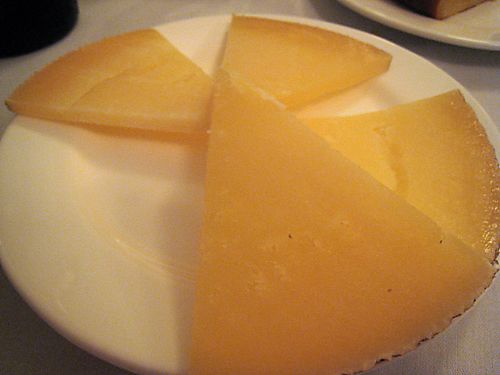 Manchego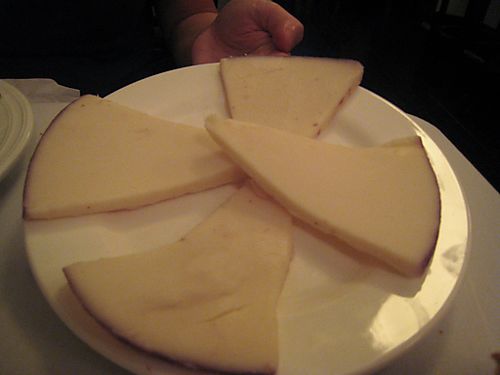 Murcia
I wanted to try two cheeses so I ordered an aged Manchego and what they call drunken goat (I'm pretty sure it's Murcia) but that was a lot of cheese for two so I got leftovers wrapped as a midnight snack (afterward, we watched Cloverfield enhanced by homemade cookies not made by me. Let's just say that those cookies make you hungry later). I'm still stuck on all the New Yorkers grossed out by leftovers. If you only ate half of this cheese, you would really just have it thrown away? I preferred the crumbly Manchego.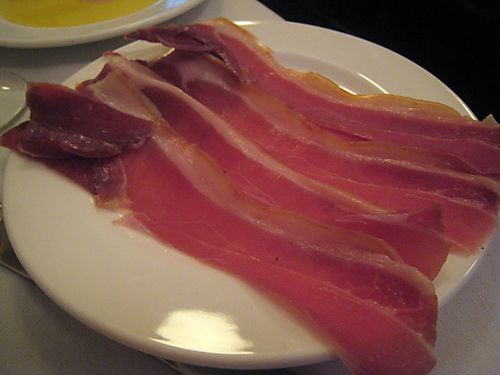 The jamon serrano was mine only and I thought it was quite good, much less salty and more substantial than the jamon crudo I'd been eating in Buenos Aires recently. I wasn't paying attention to see if they were hand-slicing it. They did have a hoof-on pig's leg on display but I wasn't sure if it was just for looks. I tend to think it was machine cut because it was so uniform and thin. Anytime I've ordered jamon in Brooklyn it turns out chunky and mangled. 
I like membrillo with my Manchego and did order some. This is the one thing I might say was overpriced. It seemed weird to pay $5 for the ham and only one dollar less for some thin blocks of quince paste. All of the accompaniments like fig cake and marcona almonds are $4, which isn't outrageous but worth noting.
We split the beet and Cabrales salad. Jessica complained that it was too tart and didn't contain golden beets as advertised (true). She also thought there was too much cheese, which I couldn't disagree with more. We have different tastes. The sherry vinegar didn't bother me so much but I think it was because I had been interspersing it with bites of tortilla and the starch neutralized the dressing. Once I did get a big mouthful, swallowed quickly and I choked from the acidity, so perhaps they could've eased up a bit on the vinegar.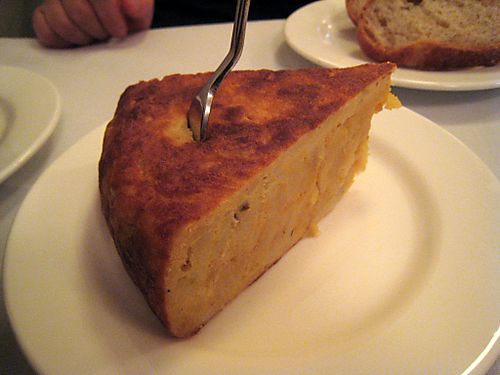 Tortilla always seems dull in theory: eggs, onions and potatoes? Eh, but they always meld into something more.
I do plan on going back, and not just because it's only five blocks from my apartment. I'd like to try the pan con tomate, another deceptively simple dish like the tortilla, but it really only works if your tomatoes are super ripe and it's not quite their season yet.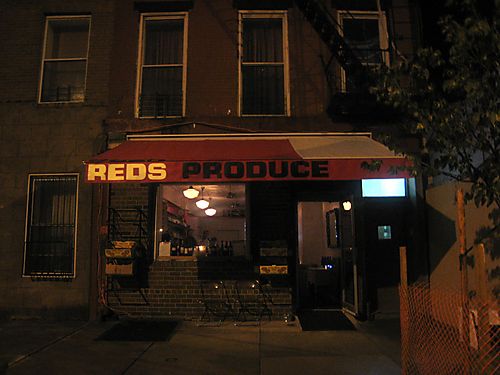 Read my write-up for Nymag.com
Reds Produce * 289 Columbia St., Brooklyn, NY