Blue Hill at Stone Barns

1/2 I'm about to embark on a woeful tale, so anyone with an aversion to unpleasantness (you know that I have a fascination with barfing, but I fully realize that not everyone shares my interest) should skip ahead to my original stellar Blue Hill experience from 2006.
I thought it was strange last week when James mentioned on a Thursday night that he'd made reservations at Blue Hill at Stone Barns. There wasn't any occasion for it. That's the kind of place you'd go to for, say, Valentine's Day not a weirdo spot like Crave on 42nd. Not that I'm knocking the spontaneity. As it turned out, he had been influenced by a promotional email from the restaurant. I always delete stuff like that, but obviously it works on people, which is great when I benefit.
The problem was that I was still very sick with the virulent cold that I'd had since President's Day. I didn't start feeling normal until three days ago, over two weeks after I first became ill. (One thing I learned is that it only takes fourteen days of not plucking for my eyebrows to turn completely Frida Kahlo. Oh, and after being given an EKG and then nearly admitted to the hospital because my heart rate was so out of control, that I'm not allowed to take cold medicine ever again).
But I was determined to go anyway and have one nice meal because I'd been stressing so much over this whole messed up blood sugar business. That was my first mistake. If you have even the inkling that you're not feeling up to par, just reschedule your reservation.
My second mistake was taking half a dose of cold medicine even though I was warned against it. Actually, I'm not sure if that was the mistake or not. I think it might've been self-prescribing antibiotics I picked up in Mexico last year. All I know is that everything stewing around in my stomach started inducing serious sweats and nausea by the time we popped out of the Brooklyn Battery Tunnel into Manhattan. And we still had an hour to go.
Always the planner, I'd targeted a Trader Joe's a few miles from Blue Hill to pick up some items like Greek yogurt and overly fibrous bread. I'll do anything to avoid shopping in NYC. First, I ran into a neighboring CVS to grab some Tums in hopes of heading off intestinal distress, but it was too late for that. Next thing I knew I was puking up my guts (and animal ones too) in the Trader Joe's bathroom.
Ok, the mistake might've been leftover Sichuan tongue and tripe in chile oil for breakfast (it seemed like a good low carb solution at the time). I will say that the numbing burn of these cold Chinese appetizers is more pleasant going down than coming up.
At this point we should've evaluated the situation and headed home but we were only a few miles from the restaurant. Instead, I nibbled on a piece of brown hyper grainy bread and hoped that the worst was over now that I'd gotten all the crap out of my system.
It is strange that both of our visits to the Westchester Blue Hill have been during the dead of bone-chilling, snowy winter. I really need to pay a visit when it's all corn and tomatoes instead of root vegetables and cabbage. Honestly, I don't have strong feelings one way or the other towards seasonal food, but I am a bit curious to try Park Avenue Winter after it morphs into Park Avenue Spring at the end of this month.
I had the good sense to not indulge in the tasting menu, a.k.a. the farmer's feast, as we did last time. The other way to dine is a la carte, two dishes plus dessert for $65 or three for $78. Portions are modest and nothing is grouped by appetizer or mains so anything goes. I wondered if it would raise eyebrows if you were piggish and ordered three meats: venison, pork and veal. Not that I would. I was completely sensible and asked for soup, vegetables and pork. We both ordered the Berskhire pork, breaking the unwritten rule of never getting the same thing.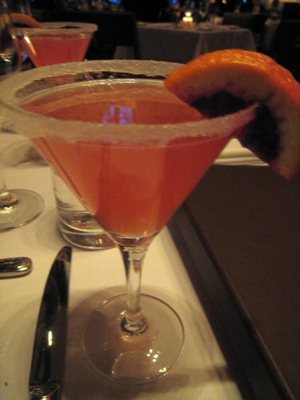 Deciding on a blood orange margarita while perusing the menu was insanity and just goes to show how unwilling I am to let go of habits. It was the ginger part of the cocktail that caught my attention. Soothing, refreshing and good for nausea. But I blocked out the tequila part. Two sips of this and I knew I was in trouble. I quickly moved on to water and ginger ale but the damage had already been done. My stomach started going wild again.
Fried food certainly didn't help. Amuses seemed to come out willy nilly. Tables received varying items. The couple next to us had mini beet burgers, which we had last time so I would've been ok without them. Not long after our neighbors polished off their snack, a second set of beet burgers clearly meant for our table went to them again. Didn't they think it was strange to be served the same starter twice?
After a bit of time passed we were brought battered proscuitto-wrapped salsify. Normally, I would've loved this but the saltiness and frittery nature overwhelmed me into queasiness.
Then, I became appalled by the couple who'd already eaten two amuses, including ours, pointing at our table and asking their waiter for what we had. And this is the type of place that's wildly accommodating (the older couple that eventually replaced these two bland thirtysomethings were extremely demanding and fussy—no fruit in anything, which caused a problem when a beet salad with goat cheese had dried fruit mixed into the cheese–but appeared to be regulars and knew all the waiters by name) so it wasn't a huge issue. But I mean, seriously. Their bad manners and the fact that the female half was a total skelator despite her apparent love of amuse bouches made me even more nauseous.
Cauliflower soup seemed bland and inoffensive and it was…until I got to the oyster and I knew I'd be leaving the table soon. No matter how many spoonfuls of the liquid I sipped, it didn't seem to budge. Kind of a loaves and fishes experience. It's not like the serving sizes were enormous but I couldn't plow through the creamy broth.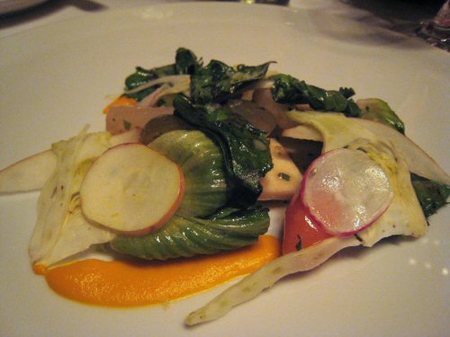 The "roots and fruits" are the type of thing I normally wouldn't order because they appeared abnormally healthy. The gluttonous part of me was like, "I don't want to eat a plate of pretty produce" but the part of me with an upset stomach and newly determined to eat less crap thought it was brilliant.
But I couldn't take a bite before I had to make a production getting up from the table (we had a freestanding corner booth, luxurious by NYC standards but it was so squishy and tucked in it was hard to get out without moving the table) to run to the downstairs bathroom. Blood orange margarita, cauliflower soup and gallons of indeterminate liquid came up in three separate wall-splattering sessions.
I kind of wanted to go home but didn't know how to handle such a maneuver at a high end restaurant when you've already ordered multiple courses. To the shock of people I've verbally recounted this sad tale to, I went back to the table and proceeded to eat my mélange of spinach, cabbage, grapes, pears, walnuts, chestnuts and fennel. It was good, ok? And I was starving. Ah, but I returned to a silver dome warming my food. I'd never encountered the elegant device until Gramercy Tavern, and here it was twice in two weeks. I told you 2008 was going to be good.
The main event wasn't to be. When the sight and smell of farm raised pork served three ways makes me gag, you know something's seriously wrong. I took one bite of the perfectly pink-centered loin and a nibble of the crispy skin and I'd reached my limit. I sat and watched James eat his while trying not to breathe too deeply or the porcine scent would induce a repeat performance in the bathroom.
When our concerned waiter came to clear plates including my barely touched one he asked "Can we make something else for you?" Now, that's service. I thought of the recent Diner's Journal discussion about taking home leftovers from upscale restaurants. I never do it, primarily because the portions don't usually require a doggy bag. I do it all the time and midrange and lower establishments, though. But this was an unusual circumstance and there was no way I was tossing a full plate of food. They whisked it away and said it would be waiting at the front desk when I left. Ah, also very classy. Not foil swan classy, but you know.
You'd think that if I couldn't handle my entrée that would be it, but I did order a dessert. Despite the rumblings in my gut, I was feeling sentimental about treats since I had just a few days prior I had been informed that I need to severely limit if not eliminate sugar from my diet. There was no way I was going to pass on this course. Even the freaky African-American nurse with an unfortunate birthmark over her forehead and right eye (it's hard to act serious and like you're listening while trying  not to stare) who kept hammering how white foods were bad like it was a twisted  racial lesson rather than a dietary one said, "If you're going to eat a sweet, you'd better make sure it's amazing." I hear ya.
Well, the desserts really were worth it. Often pastry gets short changed when the savory ingredients are the focus, but these were really nice. James ordered the rich one I would've picked if I had more digestive stability. His banana fritters made me want to hurl but I was so enamored by the concept of peanut butter ice cream topped with cracklings that I had to sample a small bite. There was also a little dish of honey for dipping.
I ordered Bosc pears poached in something brown sugary and sitting atop a flaky sable cookie with a side of five spice ice cream. I still can't figure out why I loathe fruit but prefer fruity desserts over chocolate.
I didn't touch the chocolate truffles.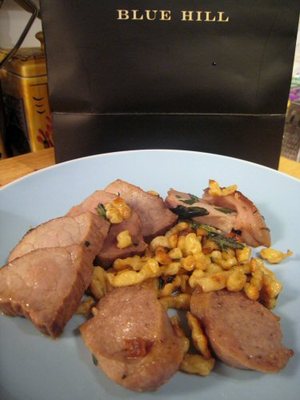 My leftover pork made a dainty lunch the following day. The fromage blanc spaetzle remained springy, but there was no way to preserve the original correctly cooked rendition. I tried crisping up the skin it the oven and microwaved the rest as briefly as possible but it still dried out a little. Even so, it was certainly better than what I'd normally eat mid-day. (3/1/08)
What do you do with a three-day weekend Sunday? Besides squandering it, I mean. I didn't even get out of bed until noon, so it's not like I was primed to seize the day. James suggested a daytrip, Atlantic City was bandied about but wasn't motivating enough. There weren't even any bad-good President's Day shows. It was cold, too frigid for anything outdoorsy (like I was considering nature, anyway). As usual, my mind wandered towards food. Where could we drive in under two hours (the distance restriction we'd set) that had food deserving of the effort?
Blue Hill at Stone Barns popped up for no particular reason. I looked it up on Open Table and they had a table for two left at 9pm. Why not? Honestly, I've never had any inclination towards the seasonal, organic, grow-your-own bent that possesses gourmet types. And is the middle of winter an ideal showcase for such a concept?
Whatever, it just sounded like a fun adventure and I was excited to get two "fancy" meals in less than a week (Pampano for Valentine's). I initially down played the upscaleness, pointing James to the $65 three-course tasting menu mention online. But hell, I just got my tax refund (no great shakes, believe me). Farmer's Feast all the way.
We actually left too early since it only takes about an hour and a half to get to Tarrytown (Pocantico Hills, whatever, it's basically Tarrytown) and were already in the vicinity by 5:30pm. On a Sunday night with time to kill and not much in the way of diversions, we took a chance on Town Tavern, which appeared to be the middle aged white guy choice in a mini downtown strip dominated by Latin American establishments. It was totally Archie Bunker–no women, heavy accents, flagrant violating of the smoking ban, no one under 50 except the bartender. I kept waiting for something horribly racist to burst out of someone's mouth (it's been known to happen) but heated conversations didn't get any more out of hand than calling the luge "gay."
It wasn't a horrible way to kill a couple hours, despite being subjected to lots of Sinatra, we at least got our third round of Bass free. Tarrytown must be a weird mix. A lone guy in a beret popped in and had a couple glasses of red wine. Other single men came in and ate frozen stuffed (with what, I'm not sure) chicken breasts warmed up in a little countertop contraption by the bartender. He must've had a surplus because everyone who asked for food (a sign advertised dinner Mon-Sat) got the chicken breast pushed on them. No one complained.
It did feel a little funny, knowing we'd be partaking in a multi-course tasting menu just up the street in a few hours. I like to believe I blend into my surroundings (yeah, right. As we were leaving, a couple guys were good-naturedly asking me about my Pepto-Bismol pink duffle coat from Target, telling me I was "retro.") but James always sticks out for wearing a suit and tie. He's just like that.
At Blue Hill, the male diners of our general age were all about expensive jeans, funky lace ups, turtle neck sweaters and blazers. We weren't able to take in the beauty of the grounds, which was fine by both of us because we're hardly nature lovers. James got all mad because I insisted on smoking right up to the front entrance and all the smooth jazzy folks could see me being uncouth.
The vibe is clean, rustic, modern barnyard (Pottery Barn but hipper and more minimalist). I wouldn't exactly say that it's my scene. Somehow it reminds me of that horrible Kitchen Trends show where everyone's obsessed with islands the size of studio apartments, Tuscan tile, granite, mosaic backsplashes, dish warmers and refrigerated drawers. Not that it quite had that suburban aspirational look. Maybe it was more like a highly calculated entertaining spread in a Conde Nast publication meant to convey casualness. I could never exist comfortably in the picture, though for the next few hours I could appreciate the concrete, neutral tones and metal beams with woody touches.
I was already tipsy, thanks to Town Tavern. As contrary as it might sound, I find this to be an optimal state for enjoying fine dining (but then, maybe I'm just a budding alcoholic. James actually complained about feeling ill towards the end of the meal, but he's one of those freaks who can't stand drinking more than one glass of wine). These kinds of restaurants tend to be stiff, despite the image they might intend to project, and a few pre-dinner drinks puts me in the proper amiable mood.
The wine? Something ill-matched and totally inappropriate, probably. I'm not even close to an oenophile . And how are to supposed to know which way to lean without seeing a menu first? Perhaps tasting menu diners rely on the sommelier for suggestions. I'm just not there yet. I picked an Alto Adige Pinot Noir a propos of nothing. I will say that there were a decent amount of reasonably priced bottles (under $50), which is a concern of mine.

A parmesan and (I think) fennel frico lollipop, served with a soup that I'm pretty sure was chestnut (I never realized how bad my memory was until trying to recall food without the help of a menu to refer to). What I'm definitely sure of was that there was a miniature, like ¼" square, curry marshmallow floating in the shot. And thats the flavor that sticks in my mind.
Adorable beet burgers. These were really sweet and flavorful. Though I somehow felt like the sesame seeds were being wasted. Eating radishes like apples was much tastier than I would've thought.
Salad of twenty herbs and lettuces. Which twenty? I have no idea. Normally, I shy away from large amounts of leaves (its a stem phobia) but this was playful. In one bite youd get a hint of lemon, in another subtle anise. Bitter, sweet and surrounded by radish coins. By this point in the meal, I had decided that if I had a personal chef to prepare fresh, creative, light fare like this I'd lose weight with little trauma.
Then we received my favorite dish of the entire meal, which totally shot my theory about healthful eating to hell. The cooks were totally toying with me. I'm too pork crazed to ever become perversely svelte. Romaine topped with a take on a Scotch egg, which was soft boiled and coated in panko, parmesan and almonds. A hot guanciale vinaigrette gets prepped in a little cast iron pot at the table and poured atop in an oily crowning glory. After popping the runny yolk, the hearty leaves were thick with rich oozy goodness.
There was a grapefruit sorbet palate cleanser in there somewhere, but I couldnt say at what point. Cod with French lentils. This was light, simple and clean tasting. It would fit back in with my original personal chef plan to make healthy eating painless.
The least memorable course. I'd completely forgotten about the pasta until I looked over the photos I'd taken a few weeks later. A great variety of mushrooms were used, enoki, trumpet, to name a few. I want to say the ravioli was filled with duck because I know there had to have been poultry in one of these dishes. Even the photos blurred more than the rest (I don't feign pro photo skills) which must be indicative of something.
| | |
| --- | --- |
| | |
We were ready to cry uncle with the cod. Despite tasting portions, these chefs menus always end up stuffing you to the gills (I've not been to Per Se, but I find it hard to believe that people persist in complaining about leaving hungry). And I'm not a dainty eater by any stretch of the imagination. The young-ish (late 20s to early 30s, as opposed to our early to mid 30s appearance) couple next to us actually asked for a doggie bag, which seemed a bit off the cuff to me (speaking of, the female wished her husband happy birthday. He thanked her for the nice meal. Then when the bill came he paid). And I think they were just doing the four course menu.
So, the venison trio, which would normally be very appealing, pushed us over the edge. The rib, chop and sausage were too heavy to enjoy by this point. Of course, that didnt stop me from cleaning my plate.
I'm no fan of the molten cake canon, so the heavy filled sweet masquerading as a soufflé killed me. It's just way too sweet and chocolately to cap off a large meal. But the hazelnut ice cream (gelato?) was refreshing.
The candied quince rectangles were almost sharp and sour enough to counterbalance the rich cake. Kind of like a tart gumdrop.
James stuffed a bunch of cocoa covered almonds in his pockets and I was just relieved to have them out of my line of vision. It was only yesterday that I remembered them and wished I had a few to nibble on. Too late, of course. What kind of sad souvenir is that? (2/19/06)
Blue Hill at Stone Barns * 630 Bedford Rd., Pocantico Hills, NY