Sunday Night Special: Red Snapper with Tomatoes and Cream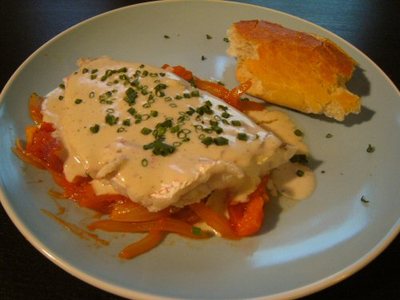 Yes, there should probably be a vegetable on the side rather than a hunk of French bread but that's how I eat.
At least on the surface, it seems like the country has gone eco-crazy in 2007. And I've been feeling inadequate because I eat factory farmed meat and cheap produce. For me, the leap from grocery store to greenmarket is like getting manicures and paying to have your laundry done. Better taste and higher quality are appealing but I can't get jazzed about local sourcing or even organic processes. Maybe in 2008.
Sunday night we stopped by Fairway and picked up red snapper, cream, tomatoes, red onions and chives of no provenance. I definitely would've preferred ripe heirloom tomatoes–it is the height of summer–but it's not like there's anyplace to impulsively purchase them at the end of the weekend in South Brooklyn.
We made do (don't tell me it's due) just fine and turned to last week's Fast Food My Way episode for a very simple (it was genuinely fast where some of these recipes aren't so swift, at least not in our kitchen) red snapper recipe. Jacques Pepin is James's fetish (I just stumbled upon Jacques's Playa del Carmen condo that he appears to be renting out and now James is all into that. It would be kind of crazy to go to the Yucatan and hang out at Jacques Pepin's house when he's not there, right?) and I think I ruined his fun by buying the companion book. He prefers starting and stopping recorded episodes while cooking. I actually like things spelled out; you can still improvise.
Red Snapper with Tomatoes and Cream
2 cups sliced red onions
2 teaspoons good olive oil
1/3 cup water
1 ½ cups diced (1-inch) tomato, from 1 large or 2 medium peeled and seeded tomatoes
4 red snapper fillets (each about 6 ounces)
¾ cup dry white wine
1 teaspoon salt
1 teaspoon salt
½ cup heavy cream
¼ teaspoon freshly ground black pepper
½ teaspoon potato starch dissolved in 1 tablespoon water
1 tablespoon chopped fresh chives
Put the onions and olive oil in a large skillet with the water. Cook over high heat for about 3 minutes, or until the liquid is gone and the onions are lightly browned. Add the diced tomato, sauté for 1 minute, then set aside and keep warm.
Arrange the fish fillets in one layer in another large skillet and add the wine and ½ teaspoon of the salt. Cover, bring to a boil, then reduce the heat and boil very gently for about 2 minutes, or until the fish is tender but not overcooked. (The timing will depend on the thickness of the fillets.)
Transfer the fish to a platter and set aside in a warm place. Add the cream to the liquid remaining in the skillet used to cook the fish and boil over high heat for a few minutes to reduce it to 1 cup. Add the remaining ½ teaspoon salt, pepper, and dissolved potato starch and mix well.
To serve, divide the warm red onion-tomato mixture among four plates and arrange a piece of fish on top. Coat with the cream sauce, sprinkle with the chives, and serve immediately.
Serves 4
Recipe from Jacques Pepin's Fast Food My Way
Houghton Mifflin, 2004