Make it a True Daily Double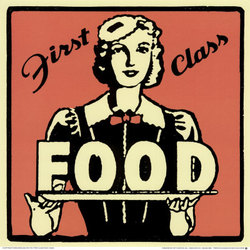 (Paraphrasing because I was only half-watching) "Which section of the New York Times allows critic Frank Bruni a $350,000 annual budget for expenses?" (And my own question, who's flying him first class to Moscow?)
No one on this evening's Jeopardy knew the answer (ok, Tim Abou-Sayed from Florida did eventually come up with "what is restaurants" as a sheer guess, right at the buzzer and after a miss from the ultimate winner Monica Lenhard of Michigan answered, "theater").
Not that Jeopardy contestants are representative of the nation at large (more informed yet more socially retarded) but it relieved me that clearly no one outside of New York reads the New York Times dining section. I like to be reminded that NYC is not the center of the world, even though I admit to feeling anxious and out of touch with local media when I'm out of town (which is why I was reading "Off the Menu" on vacation in '05 and learned about Fatty Crab. This was pre-food blog glut by the way, when I relied on print for restaurant openings. I swear I'm not obsessed with hating/loving Fatty Crab—I think I just like typing the word fatty).
Sometimes I wish I didn't know things, the kinds of things in the New York Approval Matrix. I don't want to know who The Splasher and Boerum Hill Crapper are (ok, maybe the crapper is alright), yet I do. Why? The person I live with has no knowledge of any of this non-importance (though it's not as bad as the sixth grade dropout boyfriend raised in an orphanage who had never watched TV in his entire life. Honest to god, he had no clue who Tom Cruise was and that's a hard one to avoid). Easily 85% of the people I come into contact daily for business and pleasure are not familiar with useless New York-ish pop culture talking points. Should I stop reading self-referential blogs for sanity's sake? It's not like I impress anyone with witty, informed banter. In fact, I often go all day without uttering more than a sentence or two, which likely contributes to my urge for spewing nonsense here.
Last night I saw an ad for a job I'd be perfect for. Not a cool job, library work, but definitely not hip as all (northern) Brooklyn librarians apparently now are. It involved food marketing. But it was in Virginia. I've seen Chicago ads and seriously think, but Virginia? Uh uh (it doesn't help that James's parents live in that state and would kill for him to live closer to home). It's really out of the country or not at all.
Saturday I was informed that Manila might be in a business trip future. I'd love to go to the Philippines and have been interested in the country (well, the food) since I was a teenager. Shanghai was also tossed out as a possibility for the fall, maybe both. Could I stop reading the New York Times and placeblogs, whatever the fuck those are, for at least a few weeks?
Last month everyone (in the blogosphere, duh–my god, it's worse than I thought) was doing the let's live on food stamp allotments challenge (I had food stamps in college and ate quite well–$112/month for a Northwestern 19-year-old in '91 was a lot of extra money. That doesn't seem right considering that same state's average allotment appears to be less sixteen years later). Boring. Maybe I'll do the same with regional periodicals and blogs. You know, doing without, living like the poors. But then, I'd miss the rare, cool non-NYC-centric chain restaurant article like this one appearing in tomorrow's print edition.
It's not like I'm moving (back) to Oregon anytime soon. Wild west or not, the rugged individualist state probably isn't all that welcoming of outlaw chefs. Jason Neroni will only luck out because no Oregonian has any inkling or interest about what goes on in NYC. God bless them.