Chao Thai

Read my Nymag.com review.
Phew, I was finally able to squeeze in some non-Latin food (I was getting a little plaintained-out). Thai is my go-to happy cuisine (I really want to delve into Korean food because what I know of it I like but I just can't figure out where to jump in. I need to find a place that wouldn't be intimidating to newcomers but goes beyond basic kalbi and bibimbob) but there was no way I was going to attempt Sripraphai on a Friday night. I'd only been once before but recalled tiny Chao Thai having serious potential.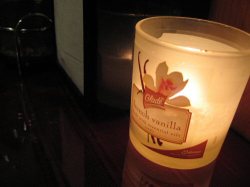 There was an empty table amongst the five or so on offer (unfortunately, it was closest to the frequently opened front door. Even though they had a space heater whirring, by the end of our meal we were practically frost bitten from our knees down) so it started well. It didn't kill me but I was freaked out the vanilla scented Glade candle sitting in front of me, next to the napkin dispenser. James loves those artificial smelly things so I kept sticking it on his side of the table and he'd torment me my putting it back in its original spot. I find air fresheners to be headache-inducing, I'd much rather smell fried fish, cigarette smoke, wet dogs (ok, maybe not the canines) and the like. Luckily, this was low on the offensive scale. If it were one of those Thomas Kinkade monstrosities (two of which reside in my home), I might've lost my shit.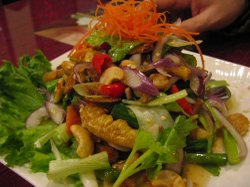 I was immediately agog over a dish on the specials list called Three Buddies Crispy Salad. They already had me at crispy because I can't resist that fatty style of pork coming from any ethnicity. But buddies? That was the cutest thing I'd ever heard. I'm not sure what the three edible pals were exactly. The pig and the fish were the only two living components—could they be buddies with vegetables? The ingredients were fish maw, crispy pork, cashews, red onions and kind of Chinesey scallions and celery leaves. There weren't expected herbs like mint of cilantro, though the dressing was explosively Thai with roughly chopped orange, green and red bird chiles peeping out from the pile of mysterious buddies.
A basil chile duck we ordered was also very Chinese in flavor, with a prominent star anise perfume. We had pad prik king with chicken (I got irked over James ordering a second poultry dish, but the other two items were my doing so I had to relent control, plus it was good).
It's easy to forget about Chao Thai, and if you're on that stretch of Whitney Avenue you might be tempted to try one of the two Indonesian restaurants across the street instead. But it's worth a stop. The food is way better than typical Ameri-Thai, very close to Sripraphai's caliber with a lot of different dishes. I gave it 2 1/2 shovels last time and I'm nearly inclined to bump that to 3 (if you haven't already noticed, my shovels tend to be fairly arbitrary). My only complaint would be no dessert case. Just like last time I picked up some galub jamun from Bappy Sweets up the street. Buddies and Bappy are a great combo. (2/23/07)
At least it's not called Chow Thai, right? Local Thai restaurants seem to get punny (Three Bow Thais, Planeat Thailand, etc.) where the ubiquitous Chinese take out joints are usually just blandly or nonsensically named. Food Wall in South Slope immediately comes to mind. I mean, Great Wall of Food or something would've been corny but it would at least make more sense.
I forced myself to try a new Thai restaurant. Actually I didn't want to be responsible for a potentially bad meal so I let James choose between three never tried places Chao Thai, Jakarta Mie up the street or Xiao la Jiao in Flushing. Chao Thai won out and I can unequivocally say that it's better than any Brooklyn Thai food I've eaten (a few weekends ago I desperately ordered take out from 9D and it almost made me want to cry, all sour and sweet, not a speck of chile to be found).
How dazzling you find tiny Chao Thai to be will depend on whether you're accustomed to the Woodside, Elmhurst, Jackson Heights offerings or are the kind of person who tries to convince me that Joya in Cobble Hill is amazing and when I voice my concerns caustically shoot back, "have you even been to Thailand?" Um, yeah, I have, and you don't need a sporadic globetrotter to figure out that the bulk of NYC Thai food is blah.
You don't need me to school you on Thai cuisine either so let's just say that Chao might disappoint Zabb and Sripraphai devotees, isn't any worse than Arunee, and better than what you're likely to find outside of Queens.
I could eat crispy pork for days so I was enthused to see four styles of pork belly on the menu-with Chinese broccoli, in basil sauce, prik khing style and with bean sprout and oyster sauce.  The first two are done at Sripraphai, the latter sounded too Chinese-y, so I went with the string bean curry. The beans are typical plump green beans where the seafood som tum we also ordered was laced with sinewy snake beans. I wonder how the choice of green bean is decided? Crunch versus chewy. The salad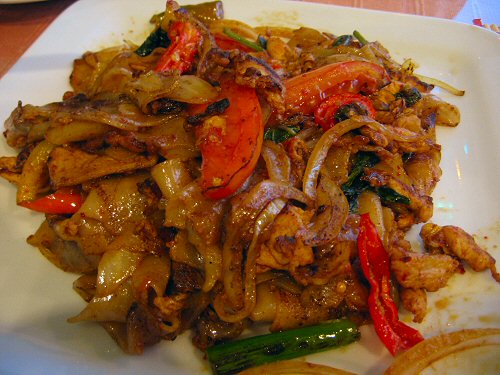 contained shrimp, squid, mussels and a few unexpected shell-on blue crab chunks. There was definitely heat, but blistering it wasn't. Pad kee mao wasn't really necessary but the leftovers are always welcome the next day and I'm a planner.
Don't be tempted to order a beer just because the waitresses wear Singha aprons. Apparently, they don't have a liquor license. Toting wine into unassuming restaurants rankles me for no good reason,
though I suppose you could BYO if you insist upon Gewürztraminer with your green curry. 
I missed my usual post-prandial (don't you hate that phrase?) pumpkin custard, but it worked out because Bappy Sweets is just two shops over. How do you resist a name like Bappy? Bappy is like happy and B.A.P.s and baps all rolled into one. And their galub jamun isn't half bad either. (9/27/06)
Chao Thai * 85-03 Whitney Ave., Elmhurst, NY