Sunday Night Special: Crispy Watercress Salad
I'm no recipe writer/developer and have never had desire to be one. The concept is foreign to me, kind of like writing a song or making up music. I played instruments growing up: piano, clarinet, drums, but I've never had the foggiest idea how people create songs from scratch. I never imagined that it was too difficult (it seems like I constantly get random My Space invites from unheard of bands–there are more bands then seconds in the day) I just didn't have the urge.
Last Sunday I didn't have the wherewithal to actually go to Sripraphai, but I was dying for their crispy watercress salad, which is like nothing else I've ever had at an NYC Thai restaurant. It's not like you can just skim through a cookbook and find a recipe. So, I was forced to make one up (based upon recipes from numerous books). It wasn't spot on, but it wasn't bad either.
The original uses squid but we didn't have any so I added more chicken and shrimp. It was a little too poultry-heavy, which made a heartier salad. I also realized that Sripraphai uses way more watercress, mine ended up being more of an accent than a component.
Dressing
2 teaspoons chile paste (I used jarred namprik pao)
6 Thai chiles, chopped
2 tablespoons fish sauce
juice of one lime
2 teaspoons white sugar
Mix all the ingredients. These are approximate proportions. I'm still learning how to balance the hot, sweet, sour salty thing. I thought it tasted right, but when tossed with the salad the overall flavor seemed too tart and not spicy enough.
Salad
1 chicken breast, about 6 ounces
6 ounces shrimp, shelled
2 large handfuls of watercress
Small handful of cashews, salted is ok
¼ red onion, thinly sliced (shallots are more authentic but mine always rot on me)
2 tablespoons cilantro, chopped
4 tablespoons mint, chopped
First, poach the chicken breast. You just bring it to a boil in water and then turn off the heat and cover for an hour.
While the chicken is cooking, prepare the dressing, slice the onion and chop the herbs.
After the chicken is done and cool enough to touch, shred into bite size pieces.
Then it's battered, fried watercress time. Against my better judgment I used a tempura recipe from Tyler Florence (how do you trust a guy who calls jalapeños halapeenos. Bobby Flay also says peeno and it makes me nuts). It didn't adhere that well to the watercress. The original has a fairly heavy coating and isn't really tempura-like at all, now that I think about it. I fried the coated greens in a few inches of oil until golden, maybe a couple of minutes and then blotted on paper towels.
Lastly, briefly boil the shrimp, not longer than a minute.
Now you can toss everything together, the fresh stuff, cooked things and the dressing. Sprinkle with the cashews and enjoy.
This recipe could feed two people who really like crispy watercress salad or four as more of a dainty starter.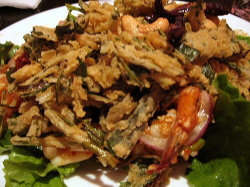 The Original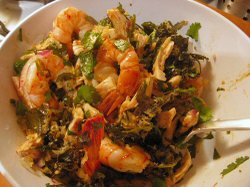 My Rendition