Anise

I had to have one "nice" dinner in Montreal since I felt compelled to mark my seven year dating anniversary somehow. The trouble was that we didn't decide to go to Canada until Thursday and most higher end establishments are closed on Sunday and Monday (the technical date) and Saturday reservations with 48-hours-notice isn't the wisest. Brunoise and Le Club Chasse et Peche wouldn't work, but Anise, another on my list was doable.
Coming off my recent Spain extravaganza. I wasn't completely bowled over. But that's hardly a negative because Barcelona and environs set the bar fairly high. I think I'm just used to past Montreal visits when the exchange rate was more in our favor. I'm cheap, duh, even when celebrating (and not footing the bill). Currently, it's almost one to one so a $90 bottle of wine is really a $90 bottle of wine. I'm focusing on wine here because I thought the list was slanted a bit heavily towards the higher end.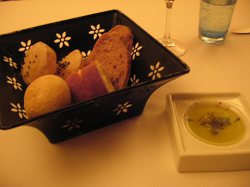 Spain is unusual because wine is a bargain even in expensive restaurants. We had the six-course tasting menu for $70, which was absolutely reasonable, and ultimately opted for the $115 version with wine pairings because it would be tough, given the choices, to spend any less anyway.
I appreciated the Middle Eastern inflected dishes, which isn't something you typically find being done in the U.S., at least not in New York. We have nouveau sorts of Indian, Latin American, Chinese, Thai and so on, but I've yet to sample this style. In a way, it's very Montreal in that both French and Lebanese food are popular in the city.
Pardon the off-color photos. I'm no whiz in the best of circumstances, but the room was very dim and moody. There wasn't even candlelight to rely on.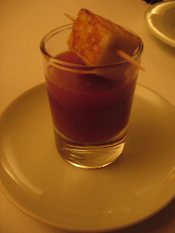 Watermelon shot with mint, arak and feta cube
This opener scared me. Melon is easily my least favorite food and the licorice-ness of the arak was pungent. It was nice with the cheese, though.

Lentil soup, pita crisp
This was like a fancy dal.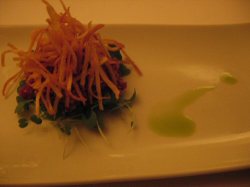 Goat gigot tartare scented with spices and marjoram, allumette potatoes
Yes, raw goat meat. I was amused by this dish because I'd just read a bit on Montreal by Alan Richman and he ends the piece with looking at Anise's menu in the window and being kind of horrified by the inclusion of duck tartare. I don't think duck has anything on goat as far as creeping Americans out. I have no problem with the furry beasts, raw or cooked.

Quail breast crusted with pine nuts, stuffed date with almonds scented with orange blossom water and cubeb
James I were joking, holding up the Lilliputian quail bone up to our mouths and pretending to nibble. But damn, if this wasn't one of the most amazing things I ate, miniscule or not. I love sweet and savory combos with the same passion that I loathe melon and extreme bitter flavors. Nuts, dates and dark meat blend wonderfully, creating a bisteeya effect (even Emeril makes bisteeya). I could imagine a duck leg being done this style in a heartier portion. Learn about cubeb, unless you're already a culinary historian. I had no idea what it was.

Venison shawarma, parsley salad with sumac, hummus coulis
A perfect example of doing something fairly traditional, but amped up. Despite the baby proportioned quail dish, we were very full by the time the shawarma was presented to us.

Raw milk comte, onion sprouts and hazelnuts
I need to start learning more about creative cheese presentations because all the little flourishes really make a difference.
After three glasses of wine and a lavendar syrup champagne cocktail, the finer details get lost. But there was gooey chocolate dessert and parting cookies.
Anise * 104, Rue Laurier Ouest, Montreal, Canada