Shrugging it Off
New things I discovered on my way to and while in Montreal.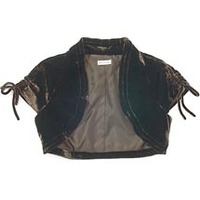 Dulce de Leche Oreos: I always find something great at Wal-Mart. This time I got a cheapy chocolate-colored velvet shrug (I know, I'm not fond of that weirdo short length either, but I'd brought a too-slinky top to wear out later without realizing how chilly it was north of NYC and needed something brown to match my skirt and to just kind of cover up my upper arms and chest. There's something demented about wearing a $10 jacket to a $300 meal, but it makes more sense to me than people spending hundreds on an item of clothing and starving, which is very New York) and a box of new limited edition dulce de leche Oreos.
Unfortunately, they just kind of taste like sugar and not much else. I'm not one for declaring anything too sweet or too rich, but these just hurt my teeth. The fact that they've been in my possession for a full week and I've only eaten two is a testament to their lackluster performance as a cookie. To be fair, I don't really like most prepackaged cookies anyway (same with canned soups). When M&Ms went all melting pot and introduced dulce de leche candies, I don't think they were that successful either.

Dark Chocolate Kit Kats: We had these in 2004, but I don't think they've stuck around. Initially, I was confused by two different dark chocolate Kit Kats at Couche-Tard (that name will never cease to make me chuckle). One was noir (just because it was in French) and the other was Xtra or some such. The only clue to their difference was the little picture on the front of the packages. Noir had dark chocolate on the outside and Xtra had dark chocolate and a chocolate wafer, hence the Xtra (I also found out that there's a cinnamon limited edition in Canada). Anyway, they tasted typically Kit Katty. I was hoping they'd be more like British Kit Kats, which use a creamier better tasting chocolate. I don't know why American (and apparently Canadian) mainstream candy bars always taste so bland and waxy.
Cheese: We took our chances on some random cheese from a European type deli that's down the street from Schwartz's whose name I can never remember (we ended up there last time too). I'm sure we could've tracked down more exquisite varieties at a proper fromagerie, but our choices ended up being more remarkable that I would've expected. In fact, I've eaten bread and cheese for dinner the past four evenings. That can't be good for you.
I always have to pick a blue but don't love the extreme sharp styles. Geai Bleu (blue jay) from Brigham, Quebec, just looked mild and it turned out to be smooth and creamy. I also like to have a soft cheese and settled on Cendré des Prés because I couldn't figure out why it had a black stripe through its center. It turns out that's from maple wood ash, which sounds kind of creepy but isn't. James likes straightforward hard cheeses and isn't into adventuring so I talked him into getting a raw milk Comte Juraflore like we'd been served two nights before at Anise. I honestly don't know what the taste difference is between a raw milk and pasteurized variety, but this Comte is crazy-you can't stop at one slice. I should buy an FDA approved wedge for comparison.