Attempts at artisanalizing the McRib wind me up a little. Yet, when it comes to cross-cultural fast food interpretations using foie gras, I'm completely open. There was no way I wasn't ordering the Foie Gras Double Down, four very important words scrawled in chalk at the bottom of the appetizer list on Joe Beef's wall-sized blackboard menu. Our server started explaining what a Double Down was (KFC had recently stopped selling the controversial sandwich in Canada) and I appreciated her assumption that I wouldn't be familiar with the monstrous creation.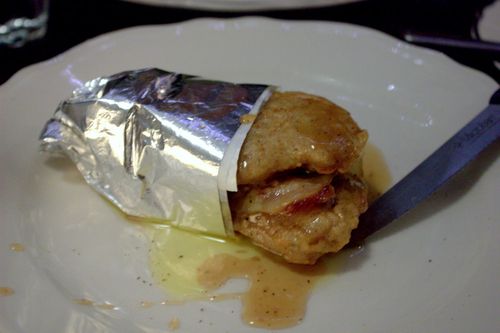 Two slices of foie gras are breaded in a light flaky crust, deep-fried, of course, and surround meaty slabs of bacon candied in maple syrup. I did not detect any cheese, though I'm fairly certain that was mentioned in the description. As if you would need an additional layer—this is the kind of dish the food police should fret over, not the chaste 540-calorie fried chicken as buns served at KFC, and exemplifies the Joe Beef approach to food in a tidy foil-wrapped bundle. Shared, the fork-and-knife snack is still a hefty dose of creamy fat and salty-sweet chew. Maybe that pork belly McRib isn't so bad after all.
My venison and spaetzle was no less hearty, but a touch more traditional. Seeing my first snowfall of the season and excited by finally being able to crack out my parka, I was going wintery and filling all the way.
We first experienced venison as an amuse. Not the first meat I would think of to carpaccio, but the pink flesh was very tender and contrasted well with the sharper raw shallots and dollop of mustardy mascarpone—oh, and shaved truffles.
Not pictured is the rack of pork ribs. Full of game meat, I didn't sample them, but James had to because he's been dabbling with a baby-sized Bradley (a Canadian brand, of course) smoker. We were shown the built-from-scratch smoker in the back yard by co-chef/owner David McMillan. Impressive for sure, as was the bowl of vanilla soft serve topped with a burgundy wine reduction and shaved black truffles. Decadent, and once again merging disparate styles.
From start-to-finish, we got the full Montreal welcome. It was more than enough to drop my old Au Pied de Cochon grudge because I'm mature that way now.
Joe Beef * 2491 Rue Notre-Dame Ouest, Montreal, Canada