Sagardi & Euskal Etxea

Barcelona isn't much of a tapas town. Basque pintxos are more the thing (though San Sebastian is where they really do pintxos up big—we didn't encounter anything nearly as esoteric as the examples on Todopintxos). It's fairly easy to figure out if you're in for tapas or pintxos. One giveaway that you're in for the latter is if the restaurant has a seemingly superfluous X in the name (funny, that I ended up in two regions—Wales and Catalan—rife with preserving ancient, hard to pronounce languages). Another tip off is a bar covered with plates of sliced french bread topped with toothpick-speared goodies.
If you're unfamiliar with the routine (I'm obsessed with doing things the right way and not looking like a retard, which kind of makes me a retard),  the procedure is asking for a plate, then helping yourself to whatever catches your fancy. It's not a simple as it sounds, though, because these bars are often four people deep. You might get a glimpse or two of something enticing but maneuvering to reach and pick up said snack is an art form I didn't have time to cultivate. If you're nimble enough to grab a few pintxos and lucky to be standing in the right spot when something fresh and tasty is brought from the kitchen, you'll be set. Just don't toss out your toothpicks after eating since that's how they tally up your bill. I can't help but imagine that diners try to beat this honor system at least occasionally, or maybe that's just the New Yorker in me scheming.
I had my trusty list of restaurants to try and weirdly enough, a good majority of them happened to be in the vicinity of our hotel. I'm not used to such convenience. On most of my few other travels, getting to all the places I wanted to eat took more effort (with the exception of the The Scarlet being practically next door to the Maxwell Food Centre) and usually involved subways not strolls.
The only stumbling block was the August closures (I'm still fascinated how entire European countries can take an entire month off at the same time and the world doesn't explode). Oh, and the overwhelming crowds filling eateries during peak hours. Agoraphobic tapas lovers like me must overcome their fears. I suppose a few glasses of sidra helps the nerves.
Sagardi wasn't on my list. I put a lot of faith in my list, which is essentially just cut and pasted blurbs from various websites and blogs, but it does the trick. Our strip, Carrer Argenteria, was tourist central, kind of more East Village in vibe with the dense foreigner concentration of Times Square, so I didn't suspect Sagardi to be much of a gem (though perennially packed Taller de Tapas, diagonally across the square was on my list, so maybe my tourist trap theory holds no water). Despite my love of chains, I wasn't sure if my love extended to European ones.
No matter, we wanted a snack around 5 pm, well before proper Spanish dinner time and Sagardi had open outdoor tables, which are a premium on any night of the week. Of course, only tourists are eating tapas at this hour but I was a tourist so I didn't care that I was being gauche. I needed a pintxos fix before my real 10 pm dinner.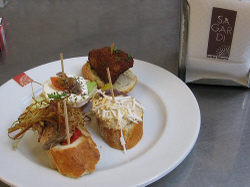 I was only going to pick out four items, but really if you're splitting each morsel in two that's not tons of food. I didn't know what I was grabbing, but they turned out to include a cod-potato stuffed pequillo pepper that was breaded and fried, mozzarella, tomato, anchovy and oregano, another with sardines, red pepper and frizzled leeks (I think) and a fourth that I can't even figure out from looking at the photo, but looks like it contained grated cheese and a paste of some sort gluing it down with something vaguely chartreuse and mauvey—a pickled pepper and squid? That makes no sense. I guess it wasn't very memorable. Maybe they all had anchovies…I'm confused. James ended up going back for a second round and found ones topped with tomato paste, parsley leaf and anchovy, a simple jamon, sweet cream cheese with blueberry sauce, shredded mint and what I swear was a carrot cookie and one using salmon, dill diced onion.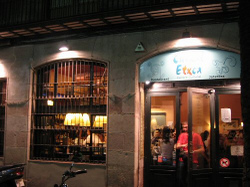 On our last evening I wanted a more authentic experience, so we tried to get to Euskal Etxea early, around 9 pm but the bar and smattering of seats were already taken and a strong crowd was taking hold. We still did OK, and I would've stayed longer and had a second drink if it hadn't been so hot inside. I don't fare well without air conditioning and this was one of the rare places I encountered during our brief Spain visit that was au natural. Is sweating while eating an authentic Basque experience? This bar is so hardcore that they don't even offer Spanish on their website, the two choices are Basque or Catalan. English? Don't even ask.
Here, it was tough to survey the food scene fully. I ended up picking a few random treats like one with a cheese (possibly manchego) wedge, walnuts and caramel (I don't think it was honey, despite that seeming more plausible), one with little poached eggs, cheese and anchovies, and another with sardines and red peppers. I also got a mini croissant with smoked salmon a little later. James got a few non-bread pintxos (they're not all bread based) like a gazpacho shot and little glass dish containing mushrooms and shrimp in a wine based sauce. We also sampled a fresh from the fryer, cheese croquette, or I guess croqueta. You have to get a jump on the hot stuff.
Sidra, hard cider, is a respectable drink with pintxos. Txakoli, a lightly fizzy, Basque white wine is also an option, but I never had a single glass in Barcelona. I did drink a lot of cava, but not with my pintxos. I had wanted to try El Xampanyet, (X pronounced CH so the word sounds vaguely like champagne when said aloud and makes sense since it's a cava bar) right across the street from Euska Etxea (yes, it was on my list) but unfortunately, they were victims of the shuttered-up August syndrome.
I was surprised when our toothpicks were added up and we'd only spent €17 euros. I'm pretty sure we spent closer to €30 at Sagardi earlier in the week. I recall their pintxos being pricier, €1.92 each to be exact. Euskal Etxea's were probably more in the €1.25-1.50 range, which seems more typical.
Pintxos, tapas, whatever you want to call them, make me happy. I used to have fantasies of eating hors d'oeuvres and appetizers for every meal. But it's a lot of effort and you need a lot of ingredients. It's not terribly feasible for one person. I guess that's what the whole small plates hoo ha is about. I just can't help but feel that that's a thinly veiled move to get people to spend more and get less. I don't go for it. Can't a girl love tiny food and still be thrifty?
Sagardi * Carrer Argenteria 62, Barcelona, Spain
Euskal Etxea * Placeta Montcada 1-3, Barcelona, Spain