There's nothing I hate more than a straggler, so my final brief missive from last month's Argentina vacation must be posted now or it never will see the light of day. And I know everyone's dying to hear about Basque food in South America.
Despite speaking Español (or Castellano, as they say, you know, just to be different) Spanish food is scarcer than you might think in Buenos Aires. Italian culture is definitely more pervasive.
Burzako is near the San Telmo market, a big Sunday afternoon draw. I'll admit that I only gave it a quick stroll through because I'm not wild about outdoor markets (I went to Brooklyn Flea for the first time Sunday and was kind of eh about the whole thing, though I enjoyed my slightly pricey Jamaica-flavored shaved ice sweetened with agave syrup from Chida).
I was expecting a more rustic restaurant, but the room was more elegant with white tablecloths and floral arrangements. Being lunch, we only ordered tapas, which I wouldn't say were particularly Basque. The entrees leaned that way, though.
It's hard to resist a croquette/croqueta/kroketa (American-approved French, Spanish or Basque, whichever you prefer). These non-oily fritters were filled with a gooey langoustine mixture and topped with an aioli type sauce.
I couldn't tell you everything on this cheese plate, but I'm fairly certain the blue was Roquefort as that was by far the blue cheese of choice in Buenos Aires.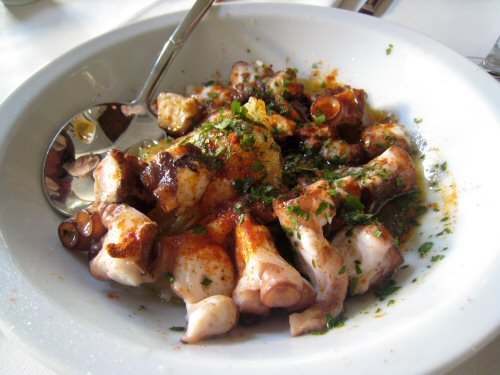 I have no idea why the octopus was so expensive. At around $18 if I'm remembering correctly (there's no Menupages to refresh my memory) the plate of pulpo a la gallega was pricey. I felt compelled to try it, though. It was definitely tender and I like anything spiked with pimenton.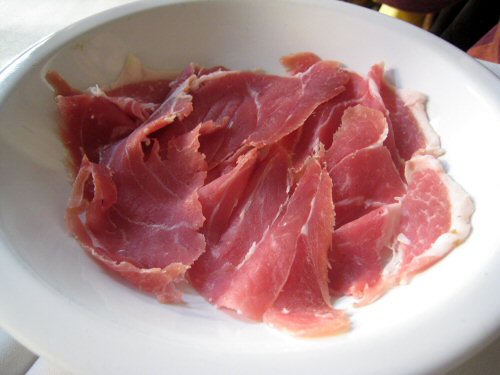 I ate a lot of jamon crudo on vacation. I also drank quite a bit of tinto, and was always surprised at how high they filled wine glasses when ordering by the glass. I'm more value-minded than concerned with my wine being able to breathe so this was a fortunate quirk to me.
Burzako * Mexico 345, Buenos Aires, Argentina