Perro Caliente
Don't be scared of the South American hot dog. My overstuffed wiener and bun induced stomach trauma from a few weeks ago is now far enough in the past that I can share some photos from my culinary experimenting. The actual article will likely appear in the New York Post in a Wednesday or two so I won't get wordy here. Ok, they ended up using my "Dog Days" piece in a larger summer food round-up.
Update 5/07: It looks like Mazorca has shuttered. I never go down Northern Blvd. so it's also news to me that Xtasis, across the street, has expanded into a pink neon palace.

Perro Mixto: ham, bacon, mayo, tomatoes, avocado, crushed potato chips

Hawaiiana: mayo, avocado, pineapple, potato chips, ham
Mazorca * 83-17 Northern Blvd. Jackson Heights, NY

Iraqui: mayo, hard boiled eggs, pineapple sauce, cheese

Mexicana: avocado, cheese, chiles, mayo
La Perrada de Chalo * 83-12 Northern Blvd., Jackson Heights, NY

El Completo: avocado, mayo, tomatoes, sauerkraut
JC & Family * 68-14 Roosevelt Ave. Woodside, NY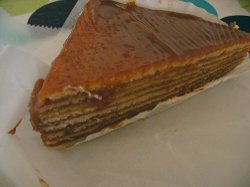 I forgot to take photos of the completo at my favorite place, San Antonio Bakery, but I did capture the beef empanada and dulce de leche layer cake.
San Antonio #2 * 36-20 Astoria Blvd. Astoria, NY