White House Sub Shop
There's a similar food feel-Italian heritage with lots of pizza and sub shops–throughout southern New Jersey and the Philadelphia area. I would suspect this vibe might also extend into Delaware, though I've never experienced that state first hand. White House Sub Shop wouldn't look out of place in South Philly. It's firmly in the no frills, brusque service, big portions, celebrity photos (the best one at this place was The Soup Nazi/Al Yegenah who had scribbled, "no subs for you.")  long lines style of Geno's, Pat's or Tony Luke's.
It took an eternity to plow through NYC to Atlantic City on the Sunday before 4th of July. Traffic inched for hours on end. We avoided the sticky, family filled Roy Rogers, Burger Kings and Cinnabons dotting the Garden State Parkway so by the time we rolled into town a little after 6m, we were famished. Our first order of business wasn't checking into the hotel, but getting a sandwich asap.
We just walked in and snagged an open booth, which was amazing luck. The long line inside was for take out orders. Evidently, this was a fluke because by the end of our not terribly long meal, a crowd for tables had formed, and the three or four times we passed by the storefront during our 48-hours in Atlantic City there was a line out the door.
I suspected the sandwiches were massive by the pricing structure. Halves were in the $6 range and wholes about double that. Outside of NYC, $12 for a sandwich is pretty outrageous. And it's not like the White House uses pricy luxury ingredients (not to say the fillings and bread aren't high quality) so the price would have to reflect quantity. We each ordered a whole anyway because that's the kind of gluttons we are. James went for the cheesesteak, I opted for the White House special because it seemed to have a lot of everything.
Well, it seems that a whole sub makes use of a whole loaf of Italian bread. Two of the four segments have one pointy end. A half, duh, is half a loaf. At first I thought they had brought us two White House Specials rather than one of each that we'd requested. Then I was like, "oh hell, that's one sandwich." We weren't daunted, it was just more for later. I swear my combo of provolone and capicola (a.k.a. gabagool) ham and salami contained at least a solid inch of cold cuts. It was like biting into a springy, cured, lightly spiced meat cake. They do that carving out of bread guts trick so more fatty goodness can be crammed in between the baked goods.
That's kind of ironic because what sets these hefty torpedoes apart from the fray is the bread. It tastes fresh like it hasn't been out of the oven for long, yeasty and chewy. Not a flimsy afterthought. The sturdy wedges hold the stuffing without getting soggy or falling apart (gross as it is, we kept our other halves un-refrigerated for over 24-hours before tearing into them and the bread was still in pretty good shape. The lettuce was wilty, but I just chucked it out).
The cheesesteaks aren't Philly style. I suspected they'd use provolone instead of the standard Cheez Whiz (you're not asked about cheese choice) and they did. They also added lettuce and tomato (which you are asked about-James said yes, which I didn't fully agree with).
If you happen to live in a part of the world where Subways and Quiznos are the rule, White House Sub Shop will be more than an eye opener (and waistline expander). We're a little spoiled for choice around here. I live walking distance to Defonte's, Caputo's and Brooklyn Bread Bakery, and don't really frequent any of these establishments (the first I've just never gotten around to, the second I like, but it closes before I get home from work, the latter I've been to a number of times and  have been put off by the distracted guido teens who work the counter). This is like road food to me, not weeknight dinner fare.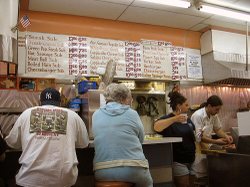 As you might expect, the servers aren't the cheeriest bunch of people and it would be wrong if they were. They're efficient and that's all that matters. The cooks are as pleasant as they could be having an endless stream of hungry and antsy customers impatiently staring at them over the grill (maybe I was projecting, but it unnerved me how everyone in line was leaning over the counter facing the cooks). If you're sick of the swath of humanity that fills glossy mag and the airwaves (analog and digital), the hodgepodge crowd crammed into this narrow lunch counter will give you a dose of reality, welcome or not. Sometimes you just want to be around regular people and regular food. And despite all the seedy glitz, Atlantic City is a pretty regular kind of place.
White House Sub Shop * 2301 Artic Ave., Atlantic City, NJ