Peas Porridge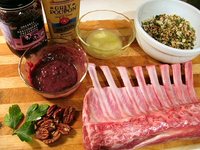 I had a Costco rack of lamb that needed eating, so I went looking for a low-fuss recipe and came up with Roast Lamb with Marionberry-Pecan Crust. Very Oregon, sometimes I feel like rooting for the home state. And I got to put my jar of organic reduced sugar Trader Joe's marionberry preserves to use (jams always sound appealing, but then I never manage to finish them).
The nutty, sweet and tangy flavors meshed with the very mild flavored meat. My only issue was trying to keep the crust from flaking off while slicing the slab into chops. Is there a secret to an adhesive coating?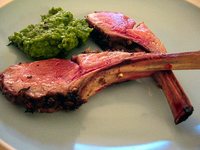 I couldn't resist turning to traditional mint as a side dish seasoning. Smashed Peas with Mint Butter tasted fresh (despite using frozen peas) and slightly sweet, and the vivid green hue was impressive. If I only knew that James was going to make split pea soup for lunch this same Sunday, I might've looked for a different accompaniment. We've eaten a lot of green peas in the past few days.