A Piece of Cake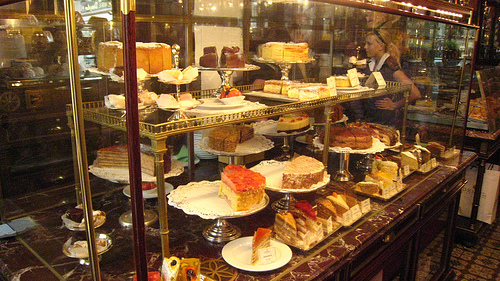 Photograph from schmuela on Flickr

No follower of the pastry scene, modern or historic, I wasn't familiar with Austria's iconic Demel until reading (ok, skimming) an article in the latest Saveur.
Now I know what the Frankie's Spuntino Franks were referring to in their description of Café Pedlar, scheduled to open Wednesday.
"It will be like a little Demel's from Vienna," Mr. Castronuovo said, "with sacher tortes, linzer tortes, and strudels."
Ignoring the superfluous apostrophe S for now, isn't that a bit of hubris? I was beginning to soften on all those Brooklyn culinary artisans but what would make someone whose success has come from home-style Italian food believe that mastering Viennese pastry arts would be the next step?
Maybe I just limit myself with a chronic lack of healthy NYC-style confidence (and funding for pies in the sky). Why not just go for it? I have no formal Chinese culinary training but wouldn't it be cool if I opened up a peking duck shop? I'm sure I could figure out how to source plump fowl, do that thing where you blow air between the skin and flesh, build a brick oven. Sure, I should apprentice with a master first, but my one beginner Mandarin class wouldn't get me far.
Eh, who cares? There's no limiting my desire to provide peking duck to South Brooklyn. It'll be like a little Quanjude's.