Thailand's Center Point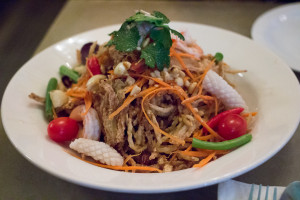 Confession: I've never eaten at a Gray's Papaya in my close-to-sixteen years in this city. (Deeper confession: I don't like hot dogs–and yes, I also eat pizza with a fork and sometimes a knife, too.) More embarrassingly, though, since I kind of consider Thai food to be my thing, is that I had never eaten at Thailand's Center Point until this year.
I know, I know. It's what Sripraphai used to be, it's mom and pop (or rather mom and daughter), there aren't hordes and a ticketing system, it's BYOB. All valid arguments. I'm probably one of the last remaining Sripraphai apologists. That's just where I'll go if I'm in the neighborhood.
Center Point does have charm. It's more personable, and I appreciate the thrift of drinking your own bottles of Brooklyn lager (four cocktails at Bar Below Rye afterward cost more than dinner) though it's also impossible render a verdict after three dishes–three dishes that came sequentially, the next arriving only after the former was finished. It wasn't clear if this pacing was intended or just how the kitchen was handling orders. I like being able to take a bite here and there.
The crispy fried papaya salad is kind of the answer to Sripraphai's crispy watercress salad; a weird treatment that works. It's essentially a som tum with seafood (squid, shrimp, mussels) except that the unripe fruit has been battered and fried. I'm all for this. You lose the freshness but gain a different kind of crunch. This is a papaya salad for temperatures sinking dangerously close to single digits. The dressing wasn't overly sweet, a common complaint, but it was heavy on the lime and garlic with no heat for balance. Of course, that can be remedied with ground chiles or chile-infused fish sauce from the condiment caddy shared among the handful of tables.
It wasn't that my request for spicy (and no, I'm not trying to prove something by obliterating the taste of the food) was misunderstood because the next two dishes, both pork because of lack of foresight, were just the right amount of hot; appreciable, some bites more tingly than others, but not brutal. The larb was a good rendition with meat that was just a shade away from medium-rare. Make sure to scoop the liquid from underneath the lettuce because that's where the heat hides.
I can never not order crispy pork. It's always going to happen if it's on the menu, which is why the larb should've been something else like the also rich-and-fatty duck that I didn't notice on the specials board until the end of the meal. Here, the fried chunks of pork were stir-fried with chile and basil, a classic. While it tasted unmistakably Thai, there was also something vaguely Chinese-y about this version compared to Sripraphai's. It's not like five-spice powder or soy sauce jumped out. All I can attribute it to is that Sriprahai's is drier with fewer distractions while the Center Point style includes thickly sliced onions and green and red peppers more prominently. It was a very likeable dish, nonetheless.
I am certain I will return because there is no shortage of people who enjoy eating here that I could tag along with. There is much to be explored on the menu still.
Thailand's Center Point * 63-19 39th Ave., Woodside, NY