So I went to Ikea in Sweden. The first thing people
say is "It's the same, right?" Well, yes. Not exactly. There's an empty parking lot, for one. On a Friday afternoon, I practically had the place to myself. I've never been to an Ikea where you can walk freely with no bumping or interference. Then again, I've never been to one outside of the NYC area. Maybe as with Trader Joe's, the shopping experience increases in pleasantness the farther you stray from Manhattan.
Conceptually, you've seen it before; there are facsimiles
of rooms set up with furniture to browse, and unless you're Chinese you
probably don't make it your second home. They do have the 2013 Stockholm
collection, which isn't available in the US yet (I'm seriously digging the green
velvet sofa and bright yellow curio cabinet).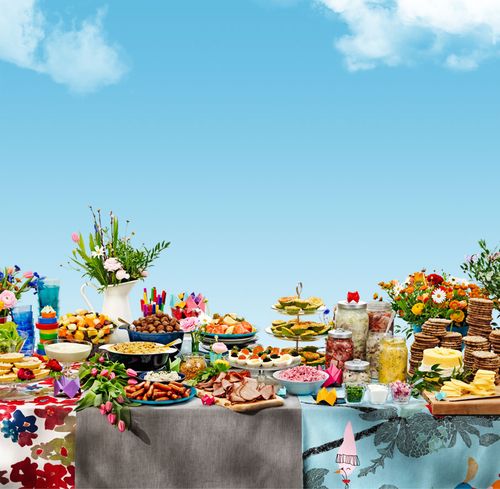 The cafeteria, though? It's different. First off,
you can have sparkling wine if you want. You can't be an American and put ice
in your soda because there is no machine. There is also a self-serve smorgasbord
with things like gravlax, pickled herring, hard-boiled eggs and Jansson's
Temptation, a potato anchovy casserole that I thought was for Christmas. The
so-called Summer Buffet did not look as Pinterest pretty as the promotional shot would
have you believe. The service staff was not Scandinavian, which made me think there must be good Turkish food somewhere in Malmo.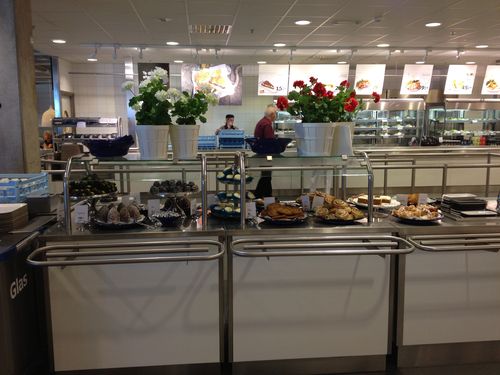 Desserts get an entire standalone display. Of course
there were cinnamon rolls, kanelbulle, (I prefer the Danish term kanel snegle,
cinnamon snail, even though I think that's a gross name for a vegan lunch
truck).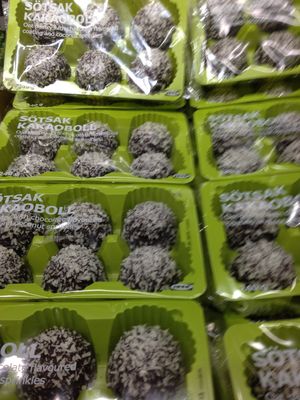 The kakaoballs were notable to me because they taste
exactly like an Idaho Spud, recognizable if you're a Northwesterner or regional candy
aficionado. They also came in much larger domes and everyone seemed to have one
on their trays.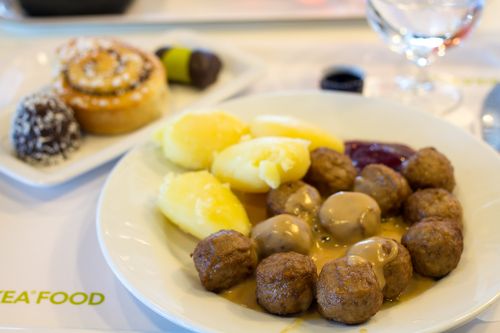 How does the standby meatball meal compare? Well, I
was dismayed on my last local visit (Paramus, not Red Hook) to see that the
boiled new potatoes, red, skin-on had been replaced by mashed. In Malmo you get
a choice of mashed, boiled or french fries, except the potatoes are full-sized
and naked. All else was universal.