Grøften & Schønnemann a.k.a. Things On Bread

If your only exposure to smorrebrod is Copenhagen
import, Aamanns, you might get stymied when figuring out how to order the
open-faced sandwiches in a more traditional, albeit touristy, setting.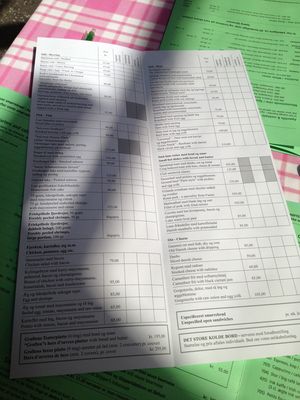 At Grøften, inside Tivoli Gardens, you're presented
with a checkbox list, broken down by topping type–seven herring variations,
alone–and each with the choice of rye, caraway or white bread. (Locals know
which pairs with what and there are definitely rules. I didn't want to be the
blueberry bagel ordering foreigner.) Is this like dim sum? Pick away, share? Using
price as a guide isn't reliable since nearly everything ends up costing more
than you think it should anyway. Is a $16 sandwich plenty for one or barely a
snack a la Aamanns?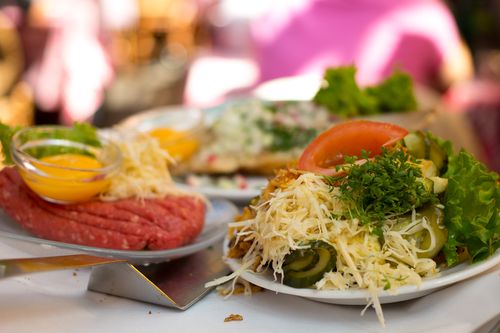 We decided on two each, which I now think was too
much (see Schønnemann, below), plus, meatballs, which was definitely way too
much. Yes, there is actually a slice of bread hiding beneath the tuft of
shredded horseradish, sweet pickles, remoulade and fried crumbled onions (a
garnish so popular it's sold in little plastic tubs at Ikea). Oh, and roast
beef.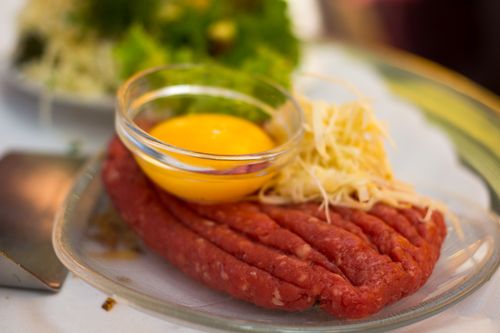 Beef tartare, egg yolk and horseradish was
straightforward as can be. Capers, chopped onion and turmeric-tinged pickled
vegetables, similar to piccalilli, came in little glass bowls for all the sandwiches
but  made most sense with the slab of
chopped raw meat. The same sandwich with black caviar is called "løvemad,"
or lion's snack in English. Cute either way.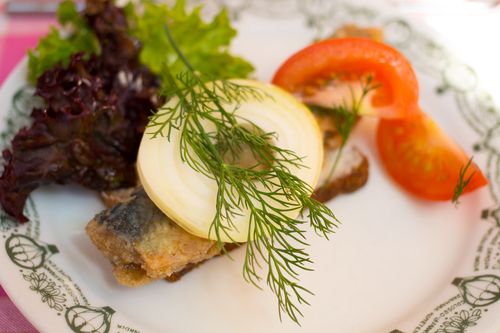 Fried herring was a little more subdued.
Frikadeller, a mixture of pork and veal, I'm pretty
sure.
As my first restaurant meal in Copenhagen, I was a
little surprised (not unhappily, as I love smoking on vacation) to see you
could still smoke indoors since Scandinavia always struck me clean-living–maybe
it's the propensity for biking? (It was also not unusual to see parents pushing
strollers with cigarettes in hand, a practice that would be certain to induce
severe shaming in many parts of NYC.) This was an anomaly that wasn't repeated
at any other restaurant I visited, though.
* * *
Schønnemann is also a traditional purveyor of things
on bread, mostly rye. There's nothing wrong with old-school Danish food; I
would highly recommend a little stodginess in lieu of  seaweed broths and charred cucumbers for one
meal. Luckily, we were seated closely, NYC close, to a Danish twosome who made
sure we ordered right. (I ended up spending Saturday hanging out, barbecuing
and drinking at their "kolonihave" outside the city and was all the
better for breaking out of the New Nordic confines that can limit the
food-obsessed.)
House brews, referred to as "lunch beer"
by our waiter, and a delicate walnut aquavit are a great way to start off an
afternoon. (While I'd recommend eating some regular food in Copenhagen, I can't
say I'd advocate multiple shots of thick salty black licorice liqueur flavored
with pomegranate, which I was exposed to later.)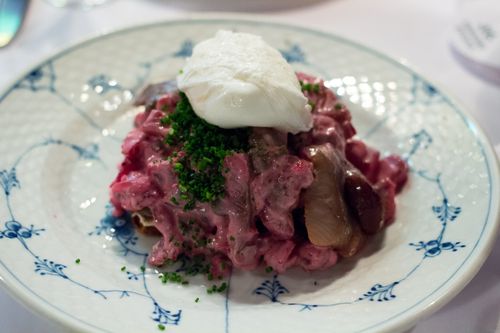 Herring salad, yes, on top of a thin, chewy slice of
nutty rye. We were told we should've asked for more bread so you're not just eating
fish, beets and sour cream.
Just one smorrebrod apiece, the normal way of doing
things. I had been previously charmed by lion's snack, and this, the
veterinarian's midnight snack, was no less poetic. That translates to a thick
spread of pate, salted beef similar to sliced corned beef, aspic and raw
onions.  This is my kind of sandwich. Dark bread and liverwurst? Yes.
The Harbourmaster, cured salmon, chives, dill,
potatoes, red onions and smoked cheese, also had an impressive name. The lime
seemed odd to me.
Make sure to have another beer, don't look at the exchange rate too hard, have a good time.
Grøften * Vesterbrogade 3, Copenhagen, Demnark
Schønnemann * Hauser Plads 16, Copenhagen, Denmark