Glasserie

All of a sudden there are an awful lot of places in
Greenpoint to find nice cocktail and small plates of food. Want a Hemingway
daiquiri and seasonal bar snacks? No problem.
 Glasserie, like much of new Brooklyn, is whitewashed, woody, hodge-podge. Less common,  the restaurant at the very tippy-top of the borough (it's practically Queens) is sprawling with multiple rooms;
nothing feels cramped, early 1900s old-timey (the vibe is almost macrame and ferns) or overly precious, style-wise or on the plate. Staff is very friendly. You might hear The Smiths.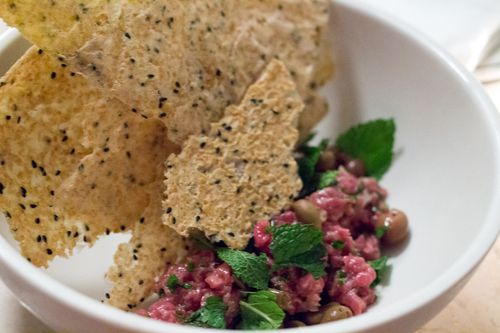 The menu is not boring. There's no burger or overt
kale usage. It leans more Middle Eastern than some of the other area
newcomers–flatbread,
tahini and labneh are all sides–with hints of Spain. The minted lamb tartare, cut with waxy green olives, is paired
with bulghur crisps, a flavor pairing echoing Turkish cig kofte, but brinier
(Lamb and bulghur also come together in croquettes.)
Clams are said to be flavored with harissa, but aren't
particularly spicy. The couscous, which acted like bread crumbs, was the more prominent
feature.
Roast potatoes were more grounding, heartier, and creamy from
Spanish cheese (maybe Tetilla?) and a poached egg seasoned with za'atar. 
Maybe it was just the Copenhagen comedown, but $9 cocktails
seemed more than fair (less gentrified parts of Brooklyn are price-creeping past the $10 mark). I've seen people refer to the Old Pal (rye, both vermouths, Campari) as a cold weather cocktail, but I think the spicy brown spirit given the aperitif's bite suits this wet, transitional season just fine.
Glasserie * 95 Commercial St., Brooklyn, NY