Corporate Culture: Pret A Manger
So I haven't been granted any previews of The Elm or
The Butterfly. But I did get a peek (and almost typed sneak peak because it's been
seared [seered?] into my brain from repeated viewings) inside a Pret a Manger test
kitchen and an early look at their new summer salads launching on Monday. You
know I have a soft spot for international chains, plus I regularly eat at Pret
anyway.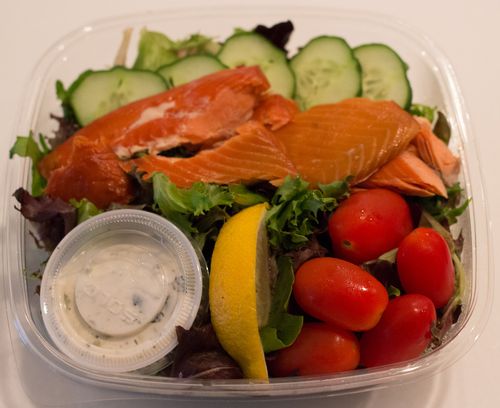 I learned a few localization tidbits:
Americans want more salads. I don't think we're accustomed to the boxed
sandwich thing that's so common in the UK.
We also want to add our own dressing and toss it together, hence the new
plastic clamshell (recyclable) instead of the cardboard box of yore.
A new prosciutto sandwich is in the works. The British version is full of
mayonnaise, naturally, while we may get brie on ours even though the Italian
and French comingling seemed illogical. We don't care about culinary accuracy.
I like a substantial salad, which usually means a
meaty component, so I was most into the Italian Prosciutto & Quinoa (also
containing hard-boiled eggs, edamame, peas) and the Wild Salmon salad with a
tzatziki dressing (suggested dressings is also a new thing). The three other
salads feature falafel, beets and berries, and vegetables plus quinoa.
And yes, I bemoaned the loss of my old long-gone
favorite the Chicken Provencal No Bread Sandwich, which was really just a
smaller, less expensive salad. It's never coming back.