WD-50
There are times when I'd like to start a gimmick blog, only eating at restaurants run by fellow Leos, traveling to every Bonefish Grill around the country, or subsisting on nothing but carbs for a year. Decaded, or maybe Aluminum Anniversary, would chronicle my mission to only eat at restaurants that have been open at least ten years. Or maybe ones where I haven't been back in ten years? (Gael Greene is on this trend.)
I would have to wait a few months to include WD-50, but it would make for a worthy example. A lot can change in a decade.  My last visit was at the end of 2004 before the dilemma of whether or not to act like a civilized adult and leave the camera at home was a thought. Back then I only used words, I talked about the food even less than I do now, I didn't do the tasting menu, and the restaurant seemed very upscale. I also thought I was too old to be drinking on the LES in 2004. Now, that's a given and I've moved past it, so I hit Barramundi's happy hour first just like
last time.
As to what upscale means now, WD-50 still is in price and intent, but as far as fine dining goes it's relaxed (I ultimately opted for the camera, obviously, and it was no big thing), service is just friendly enough and the chef was hands on in the kitchen, despite Alder's impending opening.
We're at a contrarian moment regarding tasting menus. I'll admit that I shy away from them more than I used to, but they have their place when marking  the periodic special occasion (in this case Valentine's Day not on the 14th and not technically with someone who is my boyfriend any longer). Or when someone else is paying, of course.
I'm not so much of a nostalgist that I needed to dip into the vault, as they're calling the smaller tasting menu that reprises classics. I wanted the modern version, the only other option, that was introduced last spring. Some of the dishes still bear a resemblance to the original iterations (I was extremely relieved to see that the honeydew had been dropped in the chartreuse dessert, but I wouldn't have minded trying the root beer ribs).
I chose an Oregon pinot noir (after starting with a Rye Not?), Elk Cove's 2010 Clay Court, because lighter reds are solid fallback if you're going to stick with one wine for multiple courses, I have a soft spot for my home state, and West Coast pinot noirs made up a good number of the red wines on the list. Bizarrely, the couple next to use who only asked for "a red," were steered toward Oregon pinot noirs. Is it a varietal and region for beginners?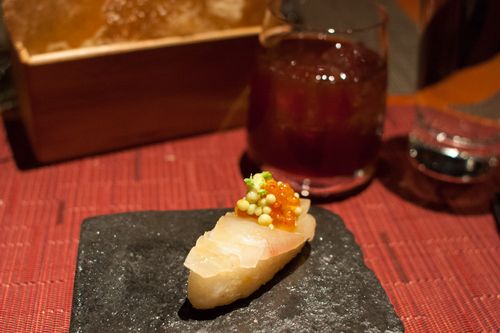 Nigiri, salsify, seaweed, sesame. Cream cheese and seaweed are turned into spheres that mimick the trout roe, and that's salsify not rice as the base. My original WD-50 visit prompted the created of the Eclectic/International category because I didn't know where this food fell. I would be more inclined to just call it American now, sushi or not.
Sweet shrimp, 'pine needles,' chestnut, cranberry.  A little Nordic, a little Christmas. Pine needles freak me out in a good way, and these aren't coniferous but crafted so they nearly dissolved in the mouth rather than offending with menthol chew.
Pho gras. One of my favorites, maybe because it's a play on a familiar dish. The rice noodles were almost superfluous; what mattered most were the foie gras torchon and beef tendon chicharron that could be doled out into the cinnamon-and-star anise-spiked consomme to melt and transform into a seriously luxe soup. The little dots of combo hoisin-and-Sriracha and microgreens only helped matters. No making fun of tweezer-style plating here.
Bone marrow, potato, pomegranate, pepper streusel. I liked the idea and presentation of this more than the reality. I may be mixing up where the potato and marrow end up, but if I'm correct the edible bone is made from the animal product and had a cartilagey, powdery quality while the invented marrow lacked the unctuousness the brain expects.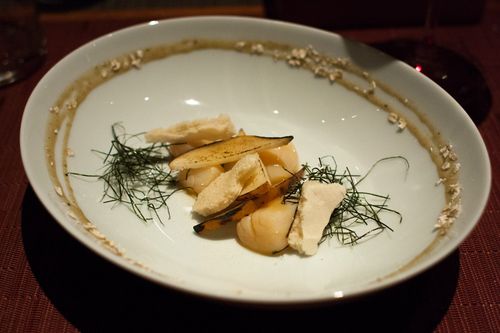 Bay scallop, pear, oatmeal-nori. Then again, this also played with that chalky texture in the form of oatmeal and it worked. I would never put a single one of these ingredients together, a blend that created a tamped down sweet-saline effect.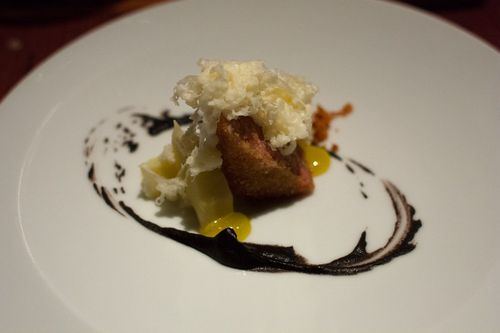 Pig tail, artichoke, olive oil jam, hazelnut. There's always a dish or two that slips past me. That description is from the website (somehow I didn't get the paper menu) but I'm not convinced that's what this was. Compressed meat, likely pork, yes, and there were definitely hazelnut overtones, but also lemon, and what looks like fluffy grated cheese and melting more like Monterrey Jack than parmesan, is bone marrow, maybe the bone marrow I missed in the potato dish.
Bass, squash, cherry, juniper, couscous.
Squab, tomato hummus, pickled turnips, tzatziki. I was not expecting Mediterranean flavors. "Green liquid falafel right on,"  as my disjointed notes read. I'll stick with that. There was also a pleasant livery flavor, likely from the game bird.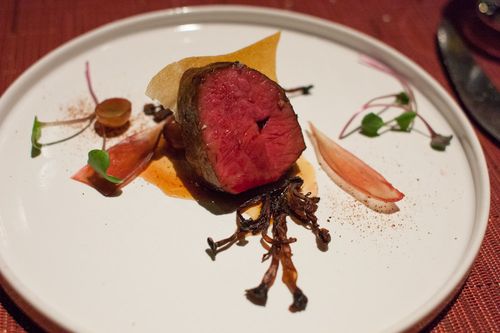 Flatiron, mushroom jerky, grape, verjus.  The meatiest course was also the most straightforward. Dried mushrooms and grapes and the umami and sweetness they added weren't out of line with the thick cut of rare beef.
Coconut, cucumber, pineapple, chartreuse. The doom dessert that wasn't, though it still was startlingly vegetal for my liking.  Barely sweet from the pineapple, it's a bridge more than a dessert.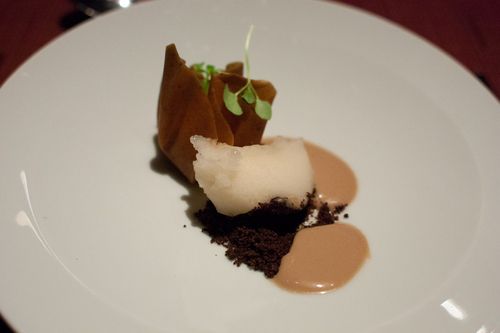 Walnut, sweet potato, coffee, plum wine.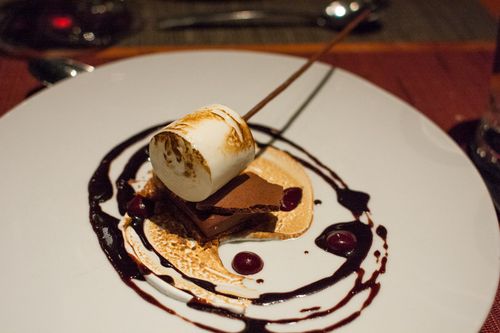 S'mores, bitter cocoa, meringue, blackberry. Ok, a real dessert. I don't always remember the sweet courses like the one above, but this one with the smokiness, chile heat, fruit tartness (I tasted cherry rather than blackberry) and gooey texture stuck with me.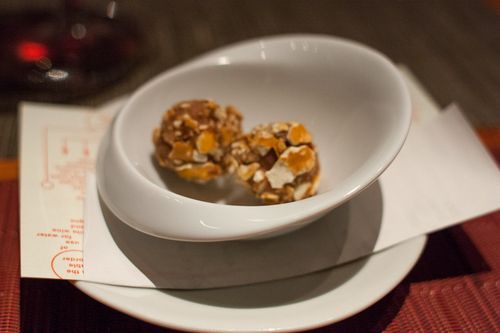 Beer malt pretzel.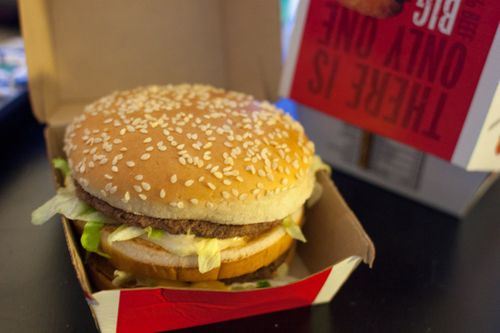 How many times (don't tell me never) have you heard the "I had to eat a Big Mac afterward," cliche used to deride the sorry effeteness of tasting menus? I have never ever had that experience, but we hit the
McDonald's on Delancey (Shamrock shakes are back!) afterwards anyway just to make the trope complete. I wasn't hungry even an hour later,  safely home watching The Americans, but it had to be done.  What I took away after not having eaten this burger in at least two decades was that even if you're not hungry after a tasting menu, you can always make room for a Big Mac.
 WD-50 * 59 Clinton St., New York, NY