Eaten, Barely Blogged: 11211
Le Comptoir It seems like just yesterday I moved to
Clinton Hill, but that was five months ago. Now it's winter and I'm living in
Williamsburg where there is easily ten times the number of restaurants and I may as well be a grandma. That's
one reason why Le Comptoir seemed like an odd choice to be name-checked in the
new rental's glowing ad copy. I wouldn't consider the bistro notable enough to
convince anyone to move nearby and only went because I wasn't in the mood for a
long Saturday night wait after a day of moving and it was empty (while Walter
Foods next door was at capacity) at first, then filled with drinkers up front.
I think they live on their all-you-can-drink weekend brunch. Service was
predictably wonky and my Sazerac, which I only ordered because it was listed,
was served iced like the Manhattans in Southeast Asia. My steak tartare with
salad was fine, if not generously portioned for $11. A fallback, not a first
choice.
BrisketTown I've still not experienced the primetime
bbq (nor the just introduced lunch sandwiches) but during the day they serve
the brisket–and you should get the brisket–in Austin-style breakfast tacos.
The floppy flour tortillas make the creation feel more like an open-faced
burrito. Despite tales of lines for dinner and running out before closing time,
there was not another soul inside for the morning shift. Though the pulled pork
and brisket look similar (I did not try the vegetable, the third offering) each
had its own unique garnish: a slightly bitter cabbage for the pork and pickled
red onions for the smoked beef. The latter, blended with scrambled eggs and
chile sauce had the edge. I have never been to Texas so I can't speak to any
authenticity–bacon or chorizo are the favored meats there–but the breakfast
tacos have been given thumbs up by more than one Austin transplant.
Forcella Part of the 2011 montanara pizza craze that
apparently has died down. And once again, we were the only diners on a
weeknight (not a good trend). I like the concept–it's not as if they're going
full-Scottish and battering and deep-frying the whole pizza–but it failed to
deliver. The whole center was sog, defeating the whole purpose of the fry. I
would've rather had a langos.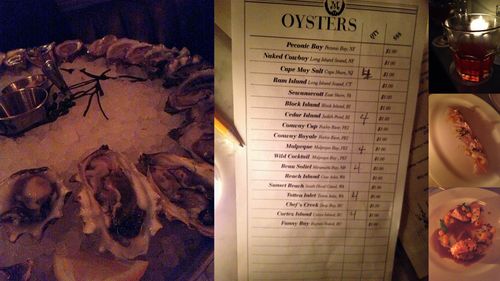 Maison Premiere A wild exception to the
everyplace is empty experience. Arriving at 4:05pm for the 4pm-7pm $1 oyster
happy hour was no prevention against waiting until 6pm until an iced tray of oysters
appeared in front of me. Whether or not this was the result of a
three-day-weekend Monday (I hope to god) or a normal Monday, I can't say. And
the seating procedure was arcane, to boot. The initial 20-minute quote turned
out to be just to enter the restaurant, which was already at capacity, and not
for any guarantee of bar seating where you can order food (seats with ledges in
the bar are drinks-only). Said prime bar seating is a free for all and
predatory. If you wait another hour or so one of the real sit-down tables will
eventually become available. Logistics aside, a buck an oyster is a good deal,
and 18 varieties means you can get an education (I knew I liked Malpeques but
the super briny new-to-me Beausoleil and Totten Island oysters were the best)
even if it's unlikely that I would return anytime soon (or could unless I snuck
off work early). The non-raw bar food is ambitious. Loup de mer crudo was
precious in size, though brightly flavored with grapefruit and marcona almonds
for a little richness. And I was not expecting a cloche and tableside saucing
with the langoustine and sweetbreads, especially not as the large group of
young men at the next table were doing their best impression of Dave Chapelle channeling
Rick James by shrieking "I'm rich bitch."
OMG Taco Technically 11206 (and no, this isn't Bushwick) there is not probably any reason to eat
here other than being very drunk and/or needing food on the same block as the
Montrose L station.With that said, the bistec taco (pictured) could've been worse.
Taco Chulo There is not a strong argument to eat
here either, though I have done so many times. It is useful for large groups
with varying levels of interest in food–and there's no harm in a margarita and
queso-drenched nachos every now and
then.