Three Letters

When I heard "70's French Truck Stop," my first
thought was Restaurant Madrid, a ramshackle diner along the route between Quebec City and Montreal with monster trucks and
dinosaurs in the parking lot, even though that's French-Canadian, not French French. My second thought was "that's
likely bullshit," though to be fair they did temper their vision with "vaguely." (I had similar thoughts when The Third Man
was described endlessly as inspired by the Loos Bar, a description I
wouldn't have questioned if I hadn't just been in Vienna and knew better. I
also see I'm not alone in my grumbling.)
I still wanted to see what Three Letters was about,
if only because Clinton Hill is a little new restaurant-deprived. I was not
alone in my curiosity. At 7pm on a Saturday there was already a half-hour wait
and by the time I was seated it was getting a little traumatic (many of the same people
were still waiting for tables by the time we vacated). Buzz, they have it.
Meanwhile, The Wallace, just a ways down Fulton is
always empty and now a daily deal staple (couples on both sides of my table,
British, deeper-middle-aged and not impressed with Three Letters, and the two younger men who liked
things fine, mentioned this dichotomy, one to me intentionally, the other overheard) which makes me feel bad because the food at the Wallace is
solid and the newlyweds who run it seem earnest. It's just not a cool place.
Perhaps its the bar with a good number of seats and lots
of inexpensive snacks, including everyone's must-have: pickles, as we're now
all living in a "fried pickle environment." (About those pickles–I
got into an elevator conversation with coworker I've never really spoken with
before and it turns out she lives nearby, had gone on opening night and took issue
with what was described as fried pickles on the menu being fried pickled
vegetables, not pickled cucumbers, i.e. how the average American thinks of
pickles, and got condescended to by the bartender when asking about it.) The
prices don't hurt; the most expensive thing on the menu is $18 and bottles of
wine topped out at $45.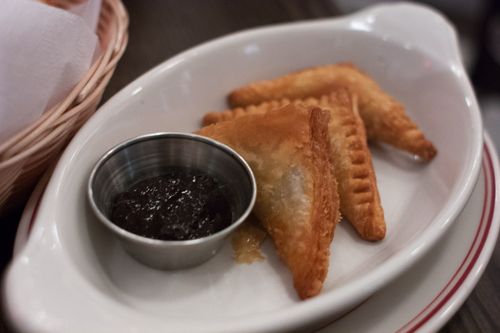 Rissoles are like savory turnovers, and stuffed with
venison are not wildly dissimilar in concept to Do or Dine's fawntons. Served
with a smoked cherry jam, the $4 hors d'œuvre is one of those aforementioned
bites that could be fun to nibble at the bar.
The smaller dishes had more appeal on paper, though
I didn't get to fully test out this theory. Moules poutine, mussels, fries and
gravy, came from the kitchen in a steady stream, landing on what appeared to be
every table but ours (yet still made it onto the check–we were scolded for not
saying anything about not receiving it sooner). So, not all French French,
after all.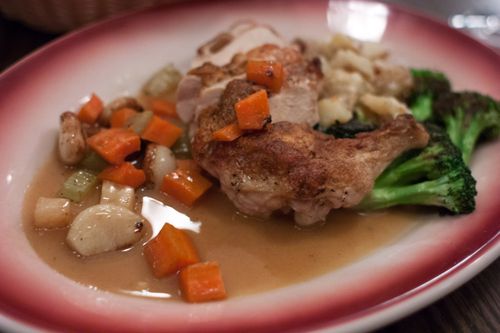 I never order the roast chicken, but thought I'd
test out a basic, here called Chicken St. James and accompanied by grilled
broccoli and a potato gratin, described as pommes alene. I got nervous when
warned that it was "cooked to order" and would take 20 minutes, since
I would expect everything to be cooked to order. I remembered why I don't order
roast chicken unless it's pollo a la brasa: it's really boring.
The food, overall, is just ok. I'd rather eat at a
French truck stop in France, but I wouldn't discourage anyone in the vicinity
from stopping by (it's really a neighborhood restaurant, not the destination it
was being treated as). I would go back if someone suggested it. I don't know that they will. The service
could use a little softening around the edges, despite the allowances I can
make for a super-slammed opening weekend.
Three Letters * 930 Fulton St., Brookyn, NY