Bonefish Grill Staten Island

If I were a paid mystery shopper for Bloomin' Brands
Inc. or a fake employee on Mystery Diners (that show is so staged, right?) I'd have to report some underperformance at NYC's first Bonefish Grill. One could go as far as saying I'm a Bonefish aficionado (no one should go as far as saying afishianado) since I'm unabashed about it being my favorite casual dining chain. Sometimes it even gives me feelings. Staten Island's attempt, though, left me feeling that they weren't quite following New Jersey's model.
They do take reservations, unusual for a chain, and it's an amenity not fully advertised so it's great for  pissing off people who've been waiting close to an hour for their beeper to go off while you get seated straightway (this is how you induce envy in the suburbs).
So, with said reservations at 8:30pm on a Friday, intentionally arrived early to scope out the bar scene. The restaurant, a former Carrabba's (there's also no Olive Garden in S.I. which makes me wonder if the Italian-American contingent won't abide chains) was far less bustling than its New Jersey counterparts. And while less crowded, it still felt understaffed. It took 15 minutes to get a drink, we weren't given the list of specials (I'm not going to order a White Winter Cosmopolitan anyway, but you should offer) and I was asked if I wanted the blue cheese olives in my "Three Olives" Martini (quotes, all theirs) a not uncommon New York-ism where you order something as described on the menu and then are asked what you want in it. So, yes, I want the three blue cheese olives. Of interest, they were serving Brooklyn Sorachi Ace and lager, a nod to NYC not found at Garden State locations.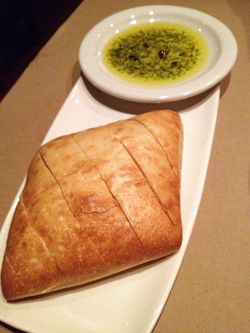 I started getting panicky (ok, not really) when the bread and pesto dipping sauce didn't automatically arrive after being seated and I didn't see evidence on anyone's table. Once again, like the cheesey olives, we were asked if we wanted bread instead of it arriving by default. Why do they not understand that America is about excess? Would Red Lobster ask if you wanted Cheddar Bay Biscuits? Of course not because the biscuits are the only reason to dine at Red Lobster. Bonefish's warm cibatta is no Cheddar Bay Biscuit, but it's part of the routine. The loaf eventually came, but naked on a plate instead of swaddled in the usual white poly-blend napkin in a metal basket. Is this approved by corporate?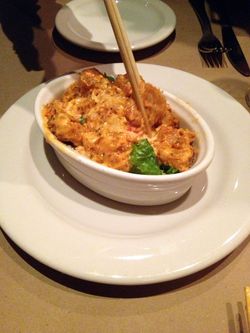 The signature Bang Bang Shrimp arrived minutes after ordering, suspiciously fast. And suspiciously soft.
I don't go to Bonefish for pin-pricks of sauce or tweezered micro-herbs artfully arranged on the plate, but I wouldn't mind a little symmetry. My Lobster Thermidor Dorado (a not bad mahi mahi filet smothered in cream sauce, crab meat and lobster claws) is about to escape off the plate.
True to form, they did play moderately obscure alternative songs (It was "Shellshock" that originally endeared me) that now sound adult contemporary like Echo and the Bunnyman's 1996 past its prime, "Stormy Weather."
On the way back to Brooklyn, a Cadillac exploded or I don't even know what and a flying hubcap shredded our tire. And then the flat replacement had a hole. I can't help but think that waiting two hours for AAA to do something (they won't rescue on the BQE, by the way; you must get your car up an exit onto a service road unless you want to pay extra for the tow) in teen temps (no surer way to sober up after a few Zombies) was a sure sign that suburban chains are best left to the real suburbs, just as a Dallas BBQ would make no sense in Westchester, a working theory that needed to be made concrete. Go try some of that Times-approved Sri Lankan food, instead.
Bonefish Grill * 280 Marsh Ave., Staten Island, NY