Eaten, Barely Blogged: Crickets, Chicken Combos, Salted Caramel
La Antojeria Popular We'll always have the
hole-in-the-wall taquerias (and despite what West Coasters argue, NYC has
plenty of Mexican food that doesn't suck) even as flashier entrants come in
waves. La Esquina to Hecho in Dumbo to Tacombi, and more recently El Toro
Blanco, Salvation Taco and La Antojeria Popular, the latter being the newest offering from the
owners of Taka Taka, the Mexican conveyor
belt sushi restaurant in Soho. As the name implies, the menu is made up of
antojitos, a.k.a. little snacks or "Mexican tapas," some more
traditional than others. Pictured is a sampling (gratis, in the name of full disclosure)
that includes the Guerrero (raw tuna cubes and mango tossed in serrano
mayonnaise on a jicama round), Michoacan (chicken in mole sauce with toasted
sesame seeds and crema on a corn tostada), Zacatecas (sirloin, salsa verde,
chihuahua cheese, also on a corn tostada) and Tamaulipas (steak, beans, chihuahua
cheese, pasilla mayonnaise–mayo is definitely a thing–in a pita sort of like
a taco arabe). For obvious reasons the Oaxaca topped with crickets–a little salty and chewy, not so
scary–and avocado on a blue corn tortilla, has gotten the most press. There is
also a small selection of ceviches and sides like the Distrito Federal (a mix
of shrimp, tilapia and beef) and Morelos, which are esquites (corn, mayonnaise,
chile, lime topped with a square of queso fresco). Desserts include a flan with
cajeta and increasingly omnipresent La Newyorkina paletas.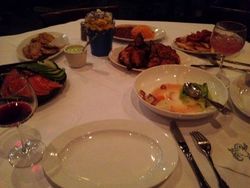 Pio Pio My favorite Peruvian chain. Ok, maybe NYC's
only Peruvian chain (I guess there's similarly named Pio Pio Riko too?). The
Matador Combo is $34 well spent, and minus the hot dog fries there's nothing terribly offbeat about Peruvian food, despite it winning the top "exotic" spot among US consumers surveyed about Latin American cuisine. Of course you get the chicken, burnished,
garlicky and salty (I think soy sauce is a not-so-secret ingredient) and no
matter how many birds they churn out (it will never not be crowded on a weekend night) still
moist, plus salchipapas, everyone's favorite french fry and wiener dish, avocado
salad, rice, beans, tostones, and the all-important green sauce (mayonnaise
being the not-at-all-secret ingredient). I like the metal bucket crammed full
of Heinz mustard and ketchup, even if I don't what the condiments are meant to go with.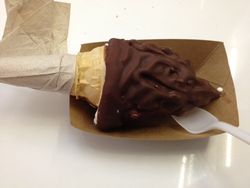 Big Gay Ice Cream Shop So, I've never been. Some
people think I don't like desserts, which isn't true at all. I just rarely go
to sweets-only shops and never patronize food trucks or street fairs or carnivals or whevever it is that sugar is sold in multiple formats. The Salty
Pimp with its chocolate-dipped vanilla ice cream and salted dulce de leche is
pretty perfect, and they even offer to put it in a dish for you, a flourish I
like because I'm fussy (yes, a fork-and-knife pizza-eater). Don't go after 11pm,
though, if you want something more elaborate like the Monday Sundae (similar
flavors to the Salty Pimp but in a bigger Nutella-lined waffle cone and
smothered in whipped cream) because they won't make it. And there was more of
that Fany Gerson and her La Newyorkina paletas–she gets around.