Fatty 'Cue Christmas
Writing about a Christmas dinner is about as useful
to anyone as the typical brunch-focused Yelp review (you don't eat brunch,
right?) so I will keep this brief. Often restaurants serve a holiday menu that's not representative of what they normally make–last year Red Rooster
went highly Scandinavian. Fatty 'Cue kept the cue, but played it straight
American. Perhaps galangal and coriander would offend baby Jesus'
sensibilities.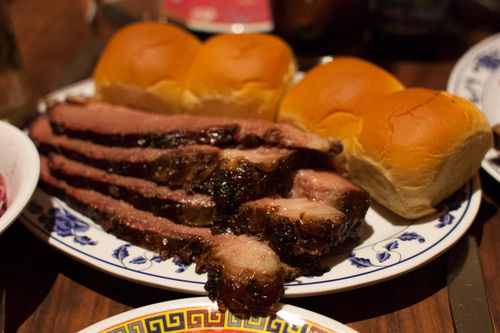 The only Asian flourish was the sweetened fish sauce
served in a plastic squirt bottle alongside the spicy barbecue version. This
condiment was my favorite aspect of the meal, and perfect for the thick slices
of brisket, righteously fatty by my standards, too much so for my dining
companion. Take heed if it's not your thing because I'm fairly certain the
Brandt beef is always served like this. If you hate lean pastrami, white meat
turkey or chicken breast, you will be fine.
The pork ribs were hefty, and while eating one
sauceless and cold the next day I noticed the overt porkiness that I'd missed
when they were fresh. Not name checked, but I'm guessing they're not from
Western Beef, my go to for meat slabs.
Collard greens and mac and cheese were
straightforward while the red cabbage slaw was lightly creamy, but not from
mayonnaise.
Slices of pie were available, but a Coors and a shot
of Jack was enough of a send off.
Fatty 'Cue * 50 Carmine St., New York, NY