Kéhli


Though a little hyperbolic, there are cities where
it's tough to get a bad meal (San Sebastian comes to mind). Budapest is not one
of them. I didn't have to try hard at all to get a raw-in-the middle sausage
and be served microwaved food guilelessly–no efforts were even made to
re-plate the meatballs from their original plastic tray.
So, heeding local advice was more important than
ever. Kéhli came recommended, and indeed, it was exactly the type of restaurant
a resident might suggest to a visiting colleague. There were mixed groups,
clearly business associates, speaking the alternating English, German and
Hungarian common in Budapest. The food and decor is traditional and  homey, a live "gipsy" band plays nightly
(when you reserve you are asked if you want to be seated near or far, which is
highly practical. Far, thanks) and yet it's not cheesy.
They are known for something called hot pot, which I
would've ordered even if I hadn't been told about it ahead of time, simply
because it shares its name with the communal Chinese preparation. At Kéhli,
it's a deceptively rich soup, appearing as a vegetable broth at first glance
into the red enamel crock that's de riguer in Budapest, yet upon first scoop
light meatballs and cubes of tender beef appear.
What's unique are the
accompaniments: a big marrow bone with a metal spear for scraping, and a basket
of garlic bread, meaning thick slices with whole cloves sticking out on
toothpicks.
 Being in the appetizers section and well priced
(like $10) we assumed this would be for one when really all of the portions are
more than enough for two. Same with the goose liver, which was less like pate,
and more like, well, cold, fatty liver–nice with sweet onion jam and raw
peppers for the first few slices, but a little relentless thereafter.
I thought that I didn't like stuffed cabbage because
I hate rice cooked into things and tomatoey sauces with ground beef. Ok, no one
has served that mix of things to me ever, but it's how I imagine stuffed
cabbage to be, conflated, perhaps with horrible '70s weeknight stuffed bell
peppers. No, this cabbage was a vehicle for pork, gooey knuckles and other odd
bits, reddened only with lightly hot paprika and brightened with cream. And it
was awesome. I need to track down a similar style in NYC–all the versions I
see are Polish or Russian, which are exactly my nightmare cabbage rolls, though I do wonder if this version is just an anomaly and not representative of a Hungarian standard at all. (This afternoon I got excited, stumbling upon a Slovakian recipe…and yes, more ground meat, rice and tomato sauce.)
This was only half of the serving, by the way. I'd
originally ordered it for myself, not realizing how big it might be until we
were asked if we wanted two plates. The anecdote on the menu, detailing how the
restaurant's owner was born big and is still formidable in size, thanks to
stuffed cabbage, should've been a tip off:  "The feast was so good for the mother's
stomach that Mr. Cecei was born a whopping 5 kgs, and he has continued to grow
to this day, until he now has expanded to weigh over 100 kilograms." And
yet I was still not put off despite not lacking a dinner goal of getting to 220
pounds.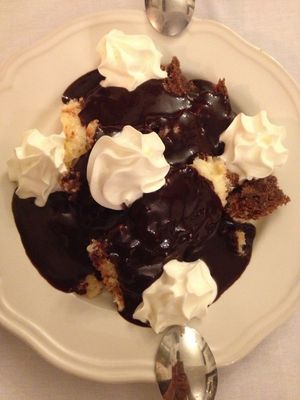 Somlói galuska is everywhere Hungary, and you'll
encounter it in fast food as well as high end versions. Though all slightly
different, the basic premise appears to be different sponge cakes topped with
custard, chocolate sauce and whipped cream. Walnut is also a prominent flavor in
this and in many desserts, because really, walnuts are the peanuts of Hungary.
Kéhli * 1036 Mókus u. 22,
Budapest, Hungary