Aska
Sundays are not typically for dining-out in my world, but it turned out that Aska was a perfectly suited end cap to the week. After a hazy week of holiday party drinking and the accompanying cheese plates, skewers and trays of cookies, it was refreshing to dine on composed plates of light food instead of buffet grazing (unless you've been attending parties serving moss and roots).
The $65 tasting menu, $20 more than previous pop-up incarnation, Frej, is still a good value. And a wine list with bottles starting in the $20s also sets the easygoing tone. Service and execution is friendly and polished–not to feed into a cliche, but finding both in Williamsburg is a rarity.
The Bond, described as similar to a Vesper (but using Pineau des Charentes and Swedish punsch instead of Lillet) was crisp and aromatic but not so much that it distracted from the opening amuses, both containing puffed, fried skins, one pork, one pike. The non-fishy one came with super-Scandinavian sea buckthorn (grown in Maine) and strip of dried pig's blood that resembled jerky but was textured more like frico (a scabby frico, but sure).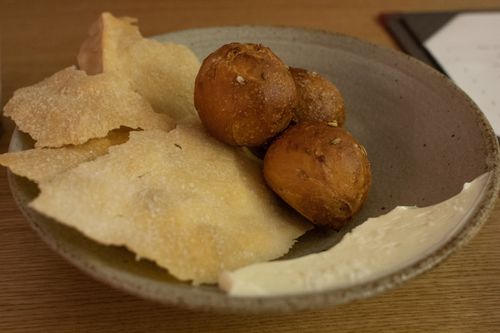 Warm caraway-studded rye rolls and a yeasty flatbread with a powdery white cheddar quality similar to Smartfood were in the bread basket.
Shrimp, cucumber, dill, rapeseed oil was straightforward, like something you'd find on thin slice of rye.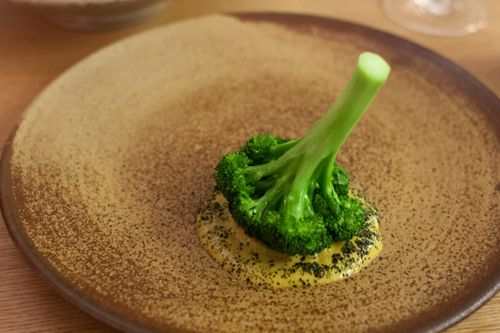 Broccoli, mussel, seaweed looked straightforward, single floret presentation, aside, but the saline flavors were less usual. It's the crudite you might find at that mythical moss-and-roots party. You aren't given utensils for this course, by the way.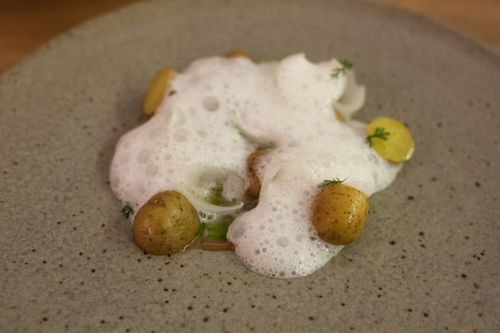 Potato, onion, mackerel was mostly about the potato, still shining through a blanket of sour milk foam.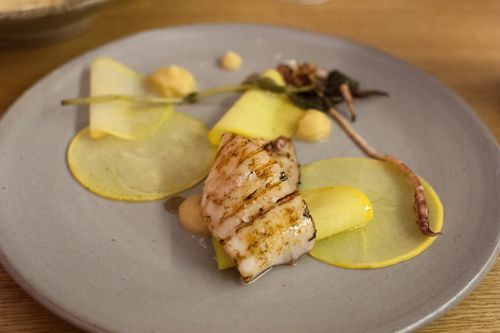 Squid, turnip, purslane was my favorite, partially because of the painterly composition, and also because it exemplified the muted style of cooking. Muted (grilled squid, raw root vegetable) but not dull (fermented weedy herb).
Salsify, lichen, autumn leaves was the most challenging, and probably the most overtly forage-y. (My half-assed illegible notes that I didn't start taking till this point read: "dirty bitter seawater.") It reminded me more of a medicinal soup, a little hippier than Chinese.
Pork shank, apple, sunchoke was satisfying with the fatty cut of meat contrasting with the austerity of the former course.
Tart whey and torn sorrel leaves transitioned from savory to sweet.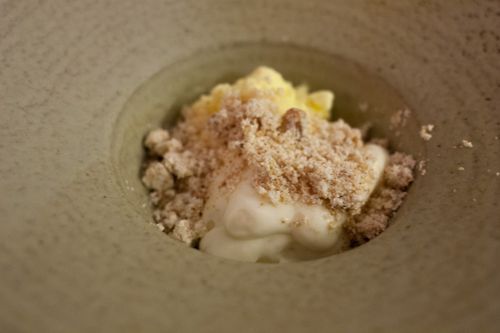 And Cardamom, brown butter, hazelnut was a conventional dessert–not a leaf, flower or herb in sight–that felt more warm and grandmotherly (not my grandma, mind you) than cool Nordic. The spiced ice cream and crumbles
were delightfully salty-sweet.
Aska * 90 Wythe Ave.,  Brooklyn, NY