Gasthaus zur Oper

There is only so much you can do, i.e. eat, while in
Vienna for 24 hours. There is no question, though, that wiener schnitzel must
make an appearance. It's in the name, right?
Gasthaus zur Oper, airy and modern and nearly Scandinavian
in feel with its blonde wood and white
on white color scheme, is not necessarily where you'd expect to find fried
cutlets. Or where I would, at least, having imagined the traditional dish in
homey but dowdier surroundings.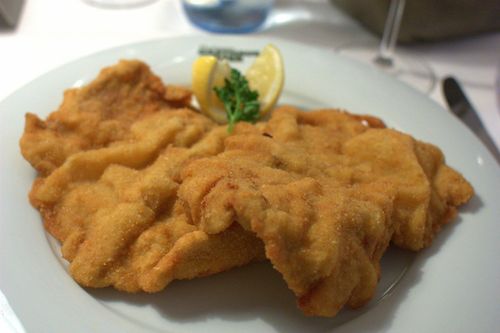 And their version is top notch: a wrinkly golden-crisp
exterior with no trace of grease, pan-fried in clarified butter. Though pork is
popular in the US and veal is traditional in Vienna, and definitely the
most-ordered thing at Gasthaus zur Oper, this specimen happened to contain
thinly pounded liver. Yep, liver. The schnitzel treatment works well for the
strongly flavored organ meat; it can take the breading without disguising its
true nature (I was originally given the veal ordered at my table and there was
no mixing up the two after first bite.)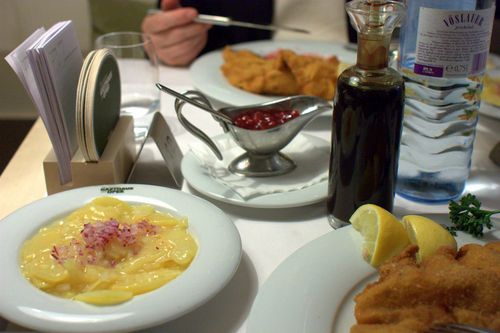 The cold potato salad was in a light, refreshing
style, tart with lemon juice and creamy without the use of mayonnaise with
minced red onion for a little more bite. I've never eaten schnitzel in its
natural habitat (Berlin being the closest) so the accompaniments were
surprising: lingonberry jam for sweetness (I thought that was more Nordic) and
a glass bottle containing a mysterious sauce that turned out to be concentrated
pan drippings, beef, I'm guessing. Gravy and berries work just as well for
schnitzel as for Swedish meatballs.
Gasthaus zur Oper * Walfischgasse 5-7, 1010, Vienna,
Austria