Sapolo

Unlike Lulu and Po or Do or Dine, which I can't
technically claim as part of my new neighborhood (they're three and two blocks
outside the Clinton Hill borders, respectively) Sapolo firmly counts. In fact, it's
one of the first restaurants I noticed because it's kind of hard to miss. A
late night favorite with the patrons of Myrtle Avenue doormen clubs, Bamboo and
SoCo (ostensibly a restaurant) and mulleted Pratt students sipping cocktails
the color of  jordan almonds, Sapolo also
represents a dying NYC breed, the sit-down Chinese-American restaurant.
And then they also serve "Spanish" food,
oh, and piña coladas in to-go cups. It's a lot to take in.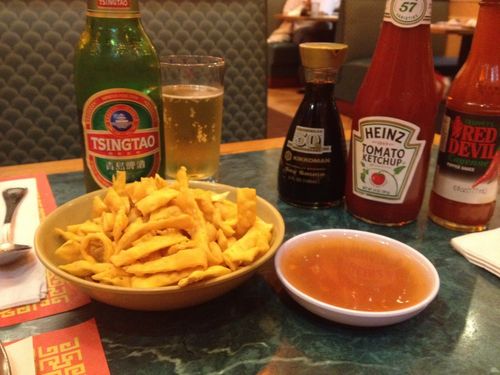 And to digest, portion-wise. Of course, you're first
brought wontons and duck sauce to nibble on while pondering the list of
cocktails ranging from the classic Singapore Sling to the notorious Nutcracker while
checking out your zodiac on the paper placemat.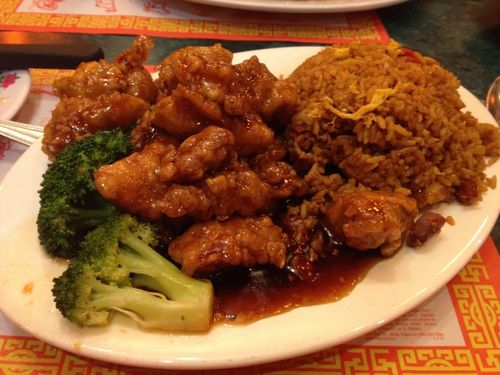 Combos are designed for value with a big butte of
fried rice (with substantial chunks of chicken or roast pork) and classics like
the General Tso chicken pictured. This is not a poor representation of the genre
and easily a notch above corner takeout style. The brown sauce was not overly
corn-starched and gloppy and while it was sweet as one would expect, there was
actual spice. I was tempted to eat more than half the serving, which any sane
person would get wrapped up to go.
The eggroll comes on its own plate with a steak
knife.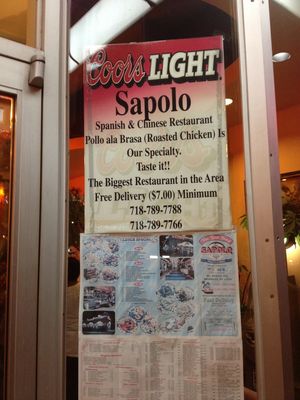 Honestly, I'm not sure what you're supposed to order
at a restaurant like Sapolo. The clientele isn't Caribbean, the staff is all
Chinese, so it would seem safer to stick with lo mein and beef with broccoli than
fried plantains, paella and bistec empanizado. The window sign does tout pollo
a la brasa, though. And it just might be the biggest restaurant in the area, so I wouldn't call them liars.
Sapolo * 501 Myrtle Ave., Brooklyn, NY