Cheesecake Factory Westbury

At the Westbury Cheesecake Factory nothing was as it
seemed or should be.
The Vietnamese Tacos were buns.
The kale salad was frisee and radicchio with a few errant celery
leaves. I was just curious how kale would play in the suburbs, and apparently,
it doesn't. I ordered it because I like sweets and nuts with my roughage and this
one also contained dried cranberries, apple and marcona almonds (at least those
were legit).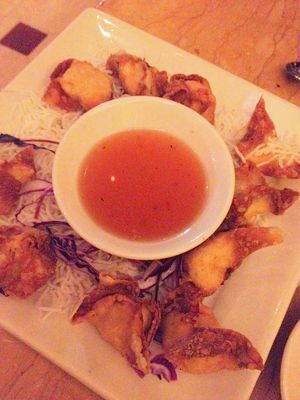 I would be surprised if the crispy crab wontons,
a.k.a. crab rangoon, contained real crab meat, but that's not the point. Fried
cream cheese is.
The macadamia white chocolate cheesecake (recommended
my our server and nearly the highest-calorie cheesecake on the list–I would
tell you just how much but nutritional info isn't on the site) was kind of a blondie
with stuff on it. Ok, it was a cheesecake–and a damn fine one if you like violently sweet desserts.
At least my martini, The Well-Mannered Dirty Martini,
was a martini, the only non-sugared choice of the ten on offer. Most chain
restaurant cocktail menus will throw in one drink with blue cheese-stuffed olives
to appease sweet-resistant fat-lovers. (I love cloying desserts–see above–but hate sweet beverages.)
And I must say that the suburbs are for spacious booths,
not two-seaters inches from a banquette of birthday partiers playing music
aloud on their phones. I could stay in NYC for that experience.  When our server mysteriously disappeared for
what seemed like a universe in chain time, we contemplated up and leaving for
Grand Lux Cafe down the road–it's supposed to be classier, right? I will have
to get to the bottom of how once town can have both a Cheesecake Factory and a
Grand Lux Cafe when so many others have to do without.
Cheesecake Factory * 1504 Old Country Rd., Westbury,
NY