Do or Dine

I'm more excited about Bed-Stuy's burgeoning dining
scene now that's more in my physical frame of reference. (I make fun of
Williamsburgers who'll never explore beyond their defined borders, but it's not like I'm
going to check out a new Upper West/East Side restaurant unless it sounds
extremely amazing.) Sure, I've been to Celestino, Peaches HotHouse and drink
at Black Swan, but I'm not a neighborhood know-it-all.
It took me a while to get to Do or Dine. Yes, they have a menu with both small plates and snacks—does anyone understand
the distinction? Because of this, I assumed the stream of food would be willy nilly, plates
appearing when ready, the bigger items arriving last maybe. Instead, each course came
progressively like a tasting menu, a new dish showing up as the former was
being finished.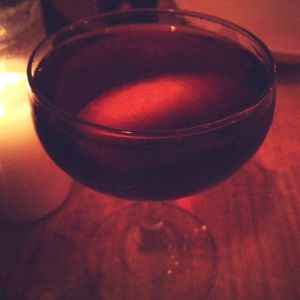 A serious cocktail (rye, averna, bitters) with a less-than-serious name, The Burt Reynolds, sets the tone. You could just as well have a cheap Rolling Rock (I had just been wondering whatever happened to this '90s staple) as a stiff $12 beverage.
How could a first-timer not order the doughnut?
Everyone knows that the warm powdered-sugared dough is stuffed with foie gras.
I didn't know, however, that the rich liver was paired with fruity (strawberry, I'm
guessing, raspberry, maybe) jelly. Split between two, the fried savory is a
perfectly reasonable starter–unless you're one of those types who only takes one
bite of everything and acts like you're overeating (or throws perfectly good cupcakes in the trash and sprinkles Comet on them).
The Leap Year Special is a snack for those who
consider frogs' legs snackable. Sure, the flesh is mild and obviously white
meat, but I wouldn't say that frog tastes like chicken, that's just the nuggety
batter talking. The texture is most definitely different, wetter, less firm, I
guess, aquatic. The sauce was more peppery than sweet, despite the advertised
addition of Dr. Pepper. To me, that's not so much a junk or stoner food touch,
but a Filipino bbq flourish.
The lamb breast is also a snack. The word fatty was
thrown in with the ingredient list, and being a prominent feature, I suppose
you could consider fat to be seasoning on par with the cumin. If you do not like
fat, you would probably not be eating at Do or Dine.
Chicken and Woffals is a liver-smeared crispy game
hen, atop a waffle. There is maple syrup, passionfruit something, cooked-down
spinach (the only greenery we ingested), all-in-all another fried, sweet-and-savory clash
that ends up delicious in spite of the rambunctiousness.
Do or Dine * 1108 Bedford Ave., Brooklyn, NY