Eaten, Barely Blogged: Hello, Myrtle Avenue
I took so many photos at Sapolo that I decided to
give it its own post.
Chinantla. I'm excited to have what feels like a
secret taqueria (there is a full-on restaurant in the back of this bodega, not
just a counter with a seat or two) only six blocks away. Mini-chains Calexico
and Oaxaca have their fans, but they just weren't cutting it for me. The pork
enchilada (as in chile sauced, not the dish with the name) probably wasn't the
wisest pick. The meat was pounded to schnitzel thinness and sauteed till lifeless
and tough enough to start bending the flimsy metal knife I was given. With a big
scoop of refried beans, mountain range of Mexican rice and slices of avocado
and nopales, it was a lot of food for $9, though. I'll definitely return for
something simpler and more fool-proof because I want this place to be good.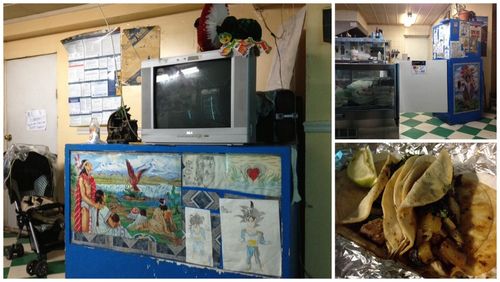 Tepango. is four blocks closer to me and courts a
broader audience with things like hard shell tacos and what they call a Super
Taco, a $5 fat rolled corn tortilla filled with meat and enrobed melted cheese
like a taco-burrito-quesadilla hybrid. These are just regular $2 tacos, the al
pastor sweet with lots of pineapple chunks and grilled onions. They deliver,
but it's worth stopping by in person to see the hand-drawn anime and fantasy
Aztec art that decorates the walls.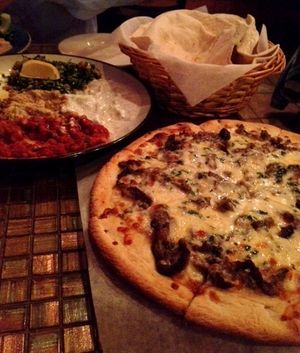 Zaytoons. The only Carroll Gardens/Clinton Hill
crossover, I think, and not the only neighborhood Middle Eastern choice (Damas
Falafel House still needs to assessed). It's byob, five mezzes are only $8.50
(I'm always impressed with how good the boring sounding lentils and rice,
moujadarra, is–it must be all the oily fried onions mixed in) and while maybe
melted cheese and lamb weren't meant to go together, I often end up with a shawarma
"pitza."
Maggie Brown. There's nothing really notable about
this solidly neighborhood restaurant/bar (there is nearly an equal amount of
small space devoted to eating as drinking). The burger is pretty solid
(medium-rare is honored) and there's a nice backyard. My only knowledge of
Maggie Brown up until now was when it got the Under $25 treatment eight years
ago, and I was surprised to see a Clinton Hill restaurant making The Times. It
still feels a little 2004, which is to say good enough for a transitional area
but not in line with the current crop of new nearish restaurants (Lulu &
Po, The Wallace, Prospect). And that's ok.
White Castle. For the second time in my NYC
existence, I live a block from a White Castle. This time it's directly across
the street and the view I'm treated to when peeking over the terrace. I don't
think I will ever be tempted by the sign advertising their new parfaits, but
the also-new jalapeno and cheese sliders (I have not been wild enough to try
the version with crispy fried onions yet) are not a bad 94-cent snack for those
who dig gooey processed cheese and chiles as much as I do. I hope this doesn't
become a habit.