Serendipty 3


We caught the last gasps of summer (yes, I'm very
aware that fall doesn't arrive until next Friday) before Park Avenue morphed
into autumn. It was my 13th (dating) anniversary, though it wasn't meant to be
a big deal, no blow-out, no special flourishes, just a restaurant we hadn't
been to in a while and felt like re-visiting. And it's a good thing we didn't
go in expecting a super-special celebration (really, after 13 years it's hard
to get that excited) because the meal was kind of a bust.
And I don't even mean the food, which was fine
enough but quickly made irrelevant. It was ruined by the beastly couple next to
us who fought loudly through most of the meal in a total Real Housewives manner
and culminated in the husband calling his wife "trailer trash." Meanwhile,
their sending back food and demanding nature cancelled out our service altogether.
By the end of our meal, our water glasses hadn't been refilled once. Squeaky
wheels, I guess. But squeaky wheels that will keep me from returning to the
restaurant again. It's like the time when I threw up at Ruby Tuesday after
eating dicey dim sum earlier. I now have a bad association with Ruby Tuesday and
there's nothing that can be done about it.  
I was ready to high-tail it by the time we were
handed the dessert menu, and then the decision was accelerated when the child
of the heinous abovementioned pair began playing DVDs aloud at the table (is
this a Dear FloFab candidate?).
But I did want a dessert still, particularly my
favorite all-American dessert (second only to pecan pie) that I rarely eat: a
big fat sundae to raise my spirits. Where?
I hate being one of those uptown/downtown dividers
(and really, I'd have to be lumped more into the borough-centric side of the
Brooklyn/Manhattan battle) but the Upper East Side isn't exactly my comfort
zone or area of expertise. I wondered, "Isn't Serendipity up here somewhere?"
Indeed, it was, and quite close to Park Avenue Summer. Ok, I'd play tourist.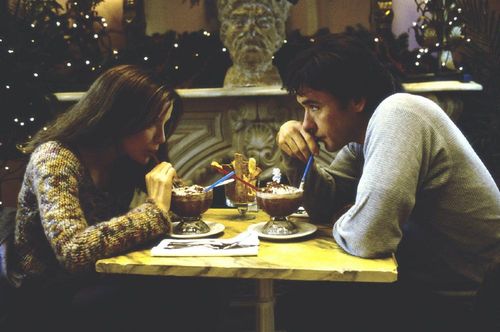 That entailed getting on a waiting list at 10pm with
a quoted hour wait. Not a problem, I'd need a few shots of whiskey at nearby
Subway Inn (which isn't an old man dive on a Saturday night but hangout for a
lot of short, Spanish-speaking young men and people, other people I'm guessing,
who put Maroon 5 on the jukebox) to appreciate the ice cream parlor's (which turned out to have more savory items than sweets, including shrimp fettucine and sauteed chicken livers) frippery
anyway.
On return, we were ushered upstairs and asked,
"Have you seen the movie?" What movie? No. And then felt bad because
we were given the coveted fireplace seat for two where the scene from The Movie
(Serendipity, duh) took place and we weren't appreciating it properly. I'm no
Kate Beckinsale. Though, I admit it the setting felt more appropriate for the
anniversary we attempting to celebrate low-key. Others, however, totally knew
the movie and were taking photos of our seat. I had no idea it was that kind of
place, in the Magnolia Bakery vein. (Or not, I honestly knew nothing about its
history—Andy Warhol was a regular?—that's far more charming and storied than an
early '00s cupcakery.) I also can't believe that Dubai doesn't have a
Serendipity yet.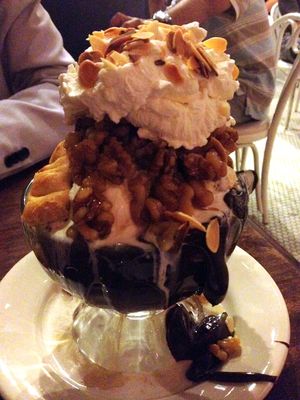 And it was exactly what I needed. A massive $15.95
sundae (a special, not on the online menu, with a name I can't remember) with
all of my favorite ingredients: butter pecan ice cream (no boring vanilla) hot
fudge and pecan pie (an entire slice is sitting in the bottom of that dish)
smothered in walnuts with a billowing cap of whipped cream studded with slivered
almonds (three different types of nuts and no peanuts?!). Um,
because I'm a glutton, I would've even tolerated a drizzle of caramel, but no
one should take my advice on constructing the perfect dessert because I have a
genetically strong sweet tooth (I will never forget taking my mom to the
Brooklyn Flea where she bought a bunch of artisanal candy bars and later
complained that they weren't sweet enough.)
That's all I wanted, more than plenty for two (or
four) but I panicked over the $8.50 per person minimum on the menu (would they
really enforce that if were $1.05 under?) so James also ordered a peanut butter
Frrozen Hot Chocolate that came with four straws. Excessively excessive, the
whole thing, but a right-on night-saver.
Seredipity 3 * 225 E. 60th St., New York, NY