Guy's American Kitchen and Bar

I'm still not 100% clear why Guy Fieri staking a claim in
Times Square is causing such a flap. I mean, isn't that where one would expect
a wildly popular food personality to take Manhattan? Tourists have their fun,
locals steer clear. Win-win.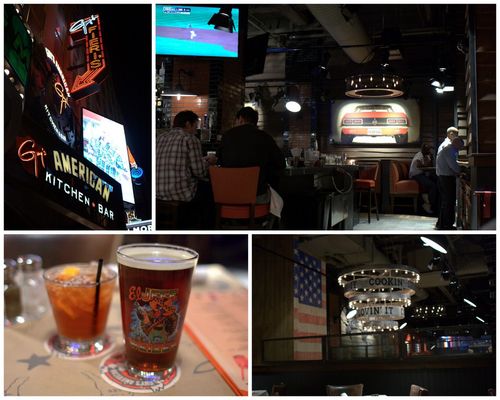 Except that locals can't stay away. At this point, the
restaurant is already old news and it hasn't even been open a week.  If I'm lucky we've already moved onto the
backlash to the backlash.
Guy's American Kitchen and Bar is not technically a chain (though
if you want a similar vibe and for some reason only a chain will do, Brick
House Tavern + Tap fills that niche) since it's not an offshoot of his two
Santa Rosa restaurants. (I have semi-estranged family in that Californina town and almost want to
get in touch to see if they've dined at either.) It does borrow from Johnny
Garlic's and Tex Wasabi's menus, however. No "gringo sushi," sorry.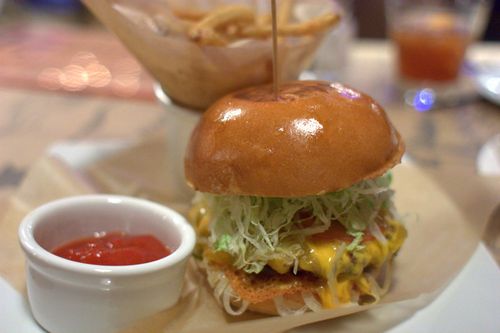 The night before I sampled the $18 1/2 lb Creekstone Farms
beef burger at Prime Meats in anticipation for a comparison with $13.95 Guy's
Pat LaFrieda blend of the same origin. It would be nice and contrarian for a flashy
everyman burger to best a pricier Brooklyn version that you almost expect to be
called a "hamburger sandwich" for old-timey effect, but it wasn't to be. (For the record, eight of the nine burgers served at the Time Square Ruby Tuesday cost more than $13.95–Guy's pricing isn't really a valid complaint in that neighborhood.)
The
patty was too thin to be consequential, a nice enough fast food burger,
but not a serious all-around contender. I should've taken heed when not asked how I wanted
it cooked. The LTOP (lettuce, tomato, onion, pickle) dominated, though the SMC
(super-melty-cheese) did deliver. Brioche bun? It was fine. I guess I'm not a
member of the brioche-haters club that I woke up to this morning on Twitter. For reasons unknown, both of Guy's other restaurants serve the Big Bite Burger on a pretzel roll, not brioche.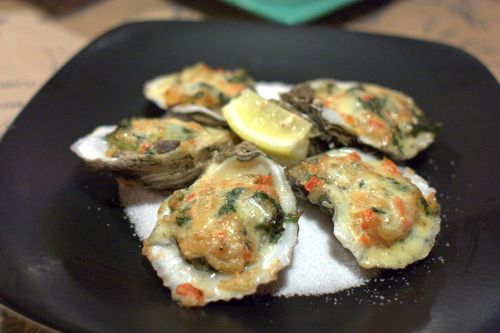 If you don't mind a lot of cheese and shit baked into your
clams (I don't) you'll be fine with the Malibu Clams Oysters, smothered in Havarti,
spinach and onions.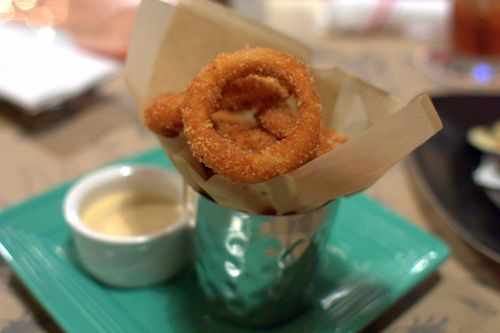 Rojo onion rings. They were just onion rings despite the
touted panko, buttermilk, Sriracha and ranch.
The Big Dipper, is yes, a french dip. I did not try this.
Sure, I had two fairly stiff cocktails at Rum House before heading
over to Guy's, but I'm still blaming the South Beach Mojito for the
rough-around-the-edges feeling I was saddled with upon waking (ok, there was
also a Morgan's Red Ale in there). I just wanted to try a cocktail and there was
no getting around the sweet even though this blueberry and mint concoction
seemed the least offensive, Barcardi Arctic Grape and all.
With all this said, I would totally go back if asked (are you asking?). I only
wish I had an expense account because that incongruous Steak Diane needs
sampling, as does the 18-ounce bone-in ribeye, both over $30. The Beer and
Honey Porchetta sails under at $29.50.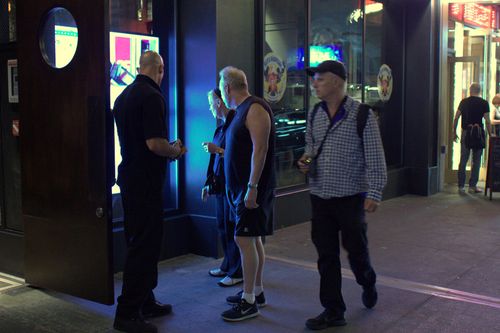 Don't tell me that's not Guy's dad deciding whether or not to drop in for a surprise visit. 
I've tried to get better at note-taking while dining, but all I was left with the next day when I remembered I'd even taken notes was: John Cougar "Check It Out" and Thought Catalog waitress. Maybe that's all you need to know?
Guy's American Kitchen and Bar * 220 W. 44th St., New York, NY