Can You Dunk Them In Soy Milk?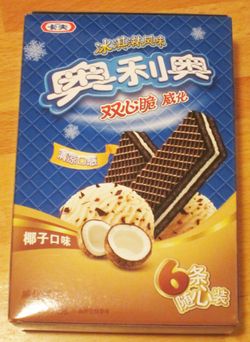 As McDonald's is the go-to for any writer talking–or more likely, posting photos–about localized fast food, Oreo is rapidly becoming the defacto snack  example (Kit Kat and its Japanese insanity is also up there, for good reason). In fact, the first time I became aware of American food being adapted abroad in the '90s, it was a discussion, who knows where,  about how Kraft had to take out the white fluff and tone down the sugar in the black biscuits for Chinese consumers.  
This week's version about Chinese marketers' endless quest for bastardizing our food comes from Reuters. A rectangular Oreo has been a hit, but a version that switched out the white filling for gum and a red bean paste flavored middle both never made it to market.
Also off the drawing table: A Ritz cracker meant to taste like fish in Sichuan chile oil. Which sounds awesome, as does the "Chicken Feet With Pickled Chili" seasoning created at the Kraft R&D lab.
Coconut Oreo picture via Eataku