Zahav

Back on Good Friday, it wouldn't have surprised me to learn that we were the only ones in the restaurant not celebrating Passover. And even though I didn't technically have the day off like everyone else seemed to, I still took the opportunity to cut out of work early and head out of town for 24 hours.
Zahav got skipped on my last Philadelphia visit, so this oversight needed to be rectified. I don't speak passionately about Middle Eastern food much (I mean, I have practically every Asian cuisine separated out as a category but lump everyone except Turkey under the Middle Eastern umbrella) and though I certainly love grilled meats and rice as much as the next person, what I'm crazy for is mezze. I could eat little dishes of pickled things, roasted vegetables, dips, salads, along with unleavened bread every day.
But Zahav is more of what I'd call modern Israeli, which is to say you can drink fun cocktails like the Marble Rye (pumpernickel and caraway-infused rye topped with celery soda) which yes, tastes like rye bread, or even Israeli, Lebanese, and Moroccan wines, and mezze isn't tabouli or muhammara, but dishes involving grilled duck hearts, veal tongue vinaigrette, and during this time of year, those ubiquitous ramps.
The $38 per person tasting, the tayim, is a crazy good deal. You'll get a selection of salatim, hummus and laffa, two mezze, one al ha'esh, the main, and one dessert. And no single dish is over $12 if you want a la carte, which is why it pays to get out of NYC every now and then.
The salatim, which I didn't do a great job of showing in its colorful entirety, included a garden's worth of eggplant, okra, cucumber, cauliflower, cabbage, beets, and carrots, some sweet, some vinegary. There was also a trio of condiments: sumac-and-sesame-heavy za'tar, harissa, and shug, the spicier green chile paste.
On my visit, the crispy haloumi was accompanied by still-wintery squash cubes, shredded apples, walnuts and sweet date puree. Just two weekends later, I see the mild cheese has been transformed with green peas, pine nuts, and ramps, so there's definitely a hyper-seasonal approach.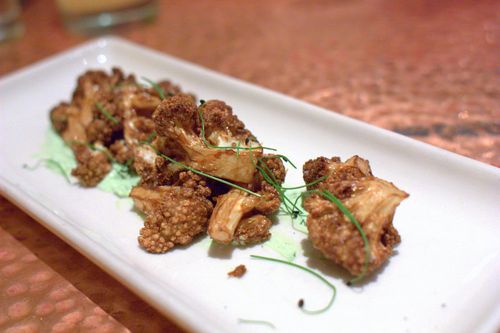 Everyone knows that fried cauliflower is the best cauliflower (next to roasted cauliflower). The tender-crisp florets could be swiped through the labeneh flavored with mint, dill, and garlic.
I still don't fully understand the Israeli schnitzel connection (see, Holy Schnitzel for more evidence) but couldn't pass up schnitzel-fied sweetbreads. This time the cauliflower was pickled, presumably red from beet juice, and served with a carob syrup, and tahnini. I'm not sure that I tasted the carob, but then, I haven't had any since the '70s when it was de rigueur at my aunt's house instead of chocolate.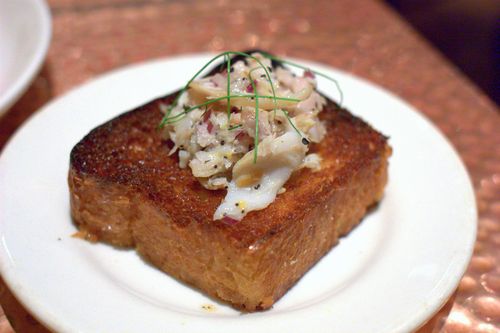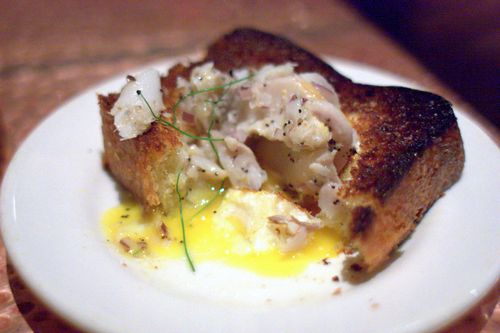 Never say no to anything containing a fried egg, especially a hidden yolk waiting to burst. This thick slice of challah, almost akin to what you might see drizzled with condensed milk at a Taiwanese cafe, was topped with house-cured sable, and a scattering of poppy seeds. Perfect for anyone who likes eating breakfast for dinner.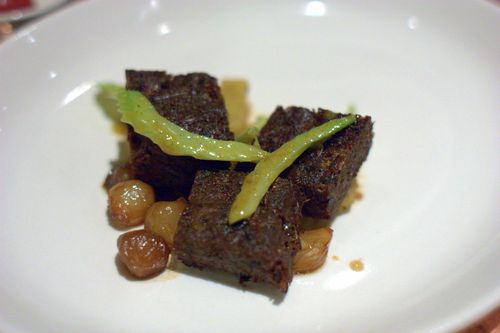 Thankfully, the mains were small plates, because I'd ruined my stomach's capacity by eating snacks earlier at The Dandelion. The beef cheeks came in compact crispy-edged squares like kibbeh, and were accented with celery, tiny onions, and paprika.
The ground duck kebabs actually tasted like the rich poultry they were (I recently had a ground duck slider that just tasted like mushy generic meat) and paired well with the not untraditional combination of saffron rice with pistachios and pomegranate molasses sauce. Both mains were good, but the mezze felt more exciting.
A dessert each seemed excessive but that was a part of the bargain, so there was apricot rugulach with Turkish coffee ice cream.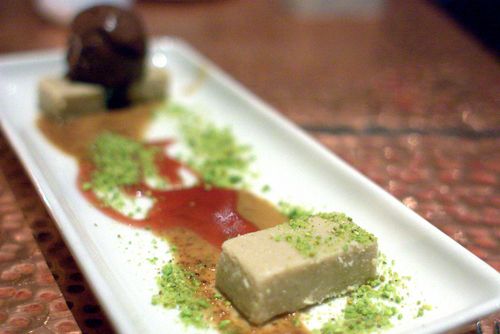 And halva with chocolate ice cream, pistachios, and a pomegranate sauce.
The biggest question I was left with was why do we not have a restaurant, not only along these lines, but of this caliber, in NYC? With that said, I haven't yet been to Balaboosta, probably the most similar in ethos to Zahav. I mentioned this to who I assumed was a manager checking in with each table (and threw us off my asking our names–if this was a Jewish-gauging test, I don't think I passed) and he said there was a possibility of a branch opening here, but that it would be Kosher. I guess there is more demand for that dietary requirement in NYC than Philadelphia? I'm not 100% sure what that would mean for the menu–I'm guessing the haloumi would get the boot–but I would be excited, nonetheless.
Zahav * 237 St. James Pl., Philadelphia, PA