Francesca

When the news broke (ha, assuming restaurant openings/closings qualify as breaking news in your world) that Frankie's 17 was turning Spanish and rebranding as Francesca, my only thought was that I wish it had been the original location instead. Yes, 457 has remained wildly popular since day one, but how much Italian food can one neighborhood sustain? Or rather (selfishly) how much Italian food can I continue not to eat?
It happened that the same Friday afternoon I was pining for pintxos on Twitter, Serious Eats posted a slide show of the new menu at Francesca. I knew I wasn't going to get the San Sebastián experience I was craving—it's just not going to happen in NYC for a gazillion reasons.  (I've already speculated why the true pintxo bar experience would never work here and won't bore you again–in a nutshell: too expensive, not sufficient concentration of bars.)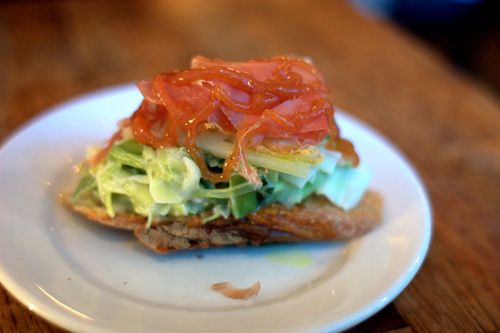 What looks like smoked salmon from afar is really jamón serrano drizzled with a viscous membrillo. The sweet and salty components sit atop a slice of Idiazabal and a big tuft of creamed leeks, and would be at home on the counter of any respectable pintxo bar.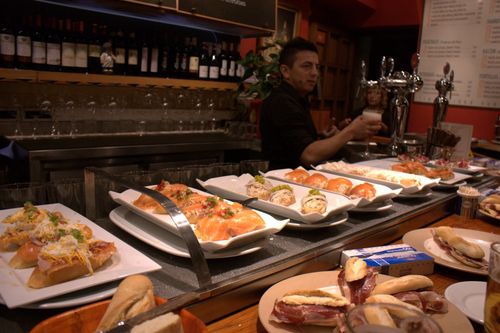 Like this. A more traditional version of a pintxo bar at Casa Senra.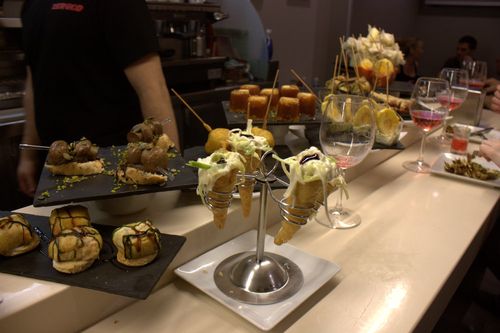 Or modern like Bar Zeruko.
I want that buffet-like feeling of walking into a crowded venue and seeing an entire bar covered in delightfully unrecognizable things layered on bread, stuck with toothpicks, maybe even gelatinized or radiating smoke,  like you've entered a canapé-filled party where anyone's invited if you have $10 to spend—and foie gras or gold leaf might even schmooze its way into that equation. And that's the other thing, the couple of dollars for a dish and a couple bucks more for a glass of wine—or more commonly a zurito, a small glass of beer—adds to the democratic appeal.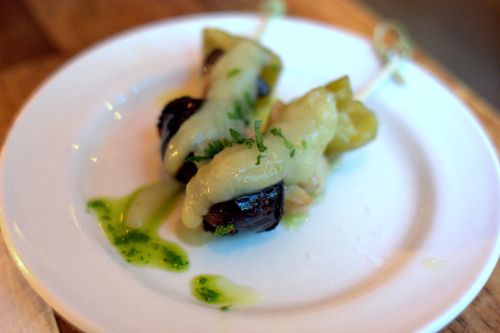 The brotxeta of morcilla, mushrooms, and peppers (setti anni–also served at Frankie's) exemplifies the quick and creative ethos, as well.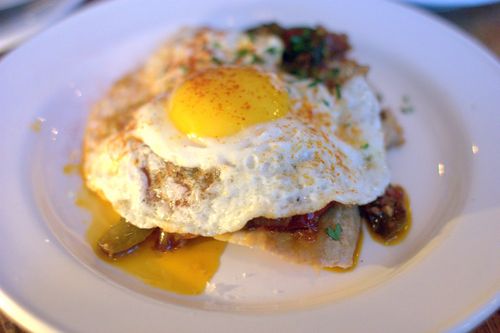 A fried egg covered slices of lomo, just fatty enough to remind you why grocery store pork loins are so wretched, and a pile of oil-slicked peppers and onions, piperrada, that had been cooked-down soft.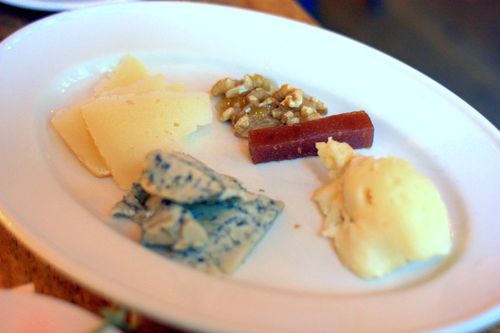 Instead of raciones, of which there were as many as the pintxos (five) we tried a selection of cheeses (Valdeón, Torta del Casar, and Idiazabal) all good, and a plate of jamón Serrano. The thinly shaved, cured meat could've been prosciutto. I guess if I wanted that luscious, substantial ham that could never be confused for lunch meat, we should've sprung the extra four dollars for Iberico.
The sherry cocktails were fun, and you don't really see spirits being manipulated to creative ends in the Basque regions like you do with the food. Txakoli is txakoli. And kalimotxo? You might not want it. #3 (East india sherry, dry vermouth, orange bitters, seltzer) and #1 (Fino sherry, sweet vermouth, cinnamon syrup, whiskey barrel aged bitters). I also tried a glass of Benaza Mencia, a lighter red that I'm still getting a feel for.
If I happened to be in the area between 5pm-7pm, which I probably won't, I would stop by the bar for a happy hour snack and discounted cocktail
I'm not an eavesdropper (well, I try, but my hearing isn't always sharp enough) but it was hard not to take interest in the older couple sitting nearby who lived on the Upper East Side,  were somehow drawn to dining on Clinton Street,  yet had never heard of Frankie's and hadn't been to Carroll Gardens. As much as I hate the dated food media "make the trek to Brooklyn" trope, it's refreshing to be reminded of that the celebrated Brooklyn artisan only has so much reach in reality.
Afterwards, we weren't terribly hungry, but in the spirit of a tapas crawl (Tapeo 29 and 1492 Food are both a block away) we went traditional at Tapeo 29 (more Madrid than San Sebastián, and too dark for photos) and had cazuelas of sweet cider-braised chorizo and garlicky shrimp with lots of bread and glasses of cava and Garnacha. My pronunciation of the red wine was corrected (I feel silly saying any non-English word as if I'm affecting an accent that's not mine) and in a way the unasked for authoritativeness was endearing in a way that Francesca wasn't. I'll let the transformed pintxos bar get its footing before making any rash judgments, though.
Francesa * 17 Clinton St., New York, NY