Eaten, Barely Blogged: 24 Hours in Philadelphia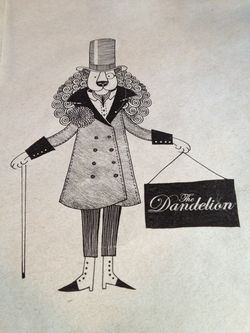 I go to Philadelphia about once a year, just to keep myself in check and explore the world just slightly beyond NYC's borders–it's the second-largest city on the East Coast, after all. And it's a good food city. My only disappointment this time around was the shuttering of Mako's, a kind of dingy bar on South Street that was only notable because it served a Surfer on Acid, which I absorbed as second-hand nostalgia from James, who knew the drink as Surfing on Acid from his Baltimore days in the early '90s. Trashy as it may be (Malibu rum, canned pineapple juice and Jagermeister) the sweet and herbal brown cocktail has become a staple at our annual Super Bowl party, and it is surprisingly good. R.I.P. Mako's.
Because it's Philly, we started off at a Stephen Starr vehicle, faux British pub, The Dandelion, which I chose partially because it was only one block from our hotel (I'm still baffled how the Sofitel charges the exact same room price that I paid on my first visit to the city of brotherly love back in 2000–thank you, crappy economy) and also because I was wooed by their  '70s children's book lion illustration-style logo (I'm a leo, I can't help my fondness for anthropomorphic felines).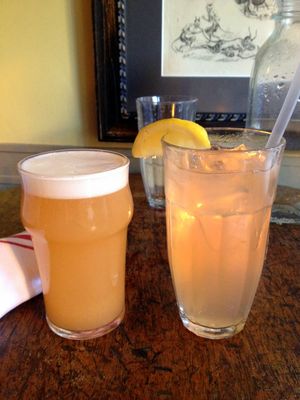 The intention was to merely sip cocktails and have a few bar snacks to hold us over till our 9:30pm dinner reservations at Zahav. Even though it was only 5pm, we may have ordered too much.Well, there were fun cocktails: a Bourbon Ginger Fizz (Bulliet bourbon, ginger, lemon, bitters, egg white) that looked like a little pint of beer, and the gin and bitter lemon (Beefeater gin, lemon, bitters, tonic) not unlike a gin and tonic, just a touch dryer. A more unusual, Scotch Honeysuckle (Dewar's scotch, dry vermouth, honey, lemon, rose water) was also enjoyed, and wouldn't have been totally out of place at Zahav either, though not pictured.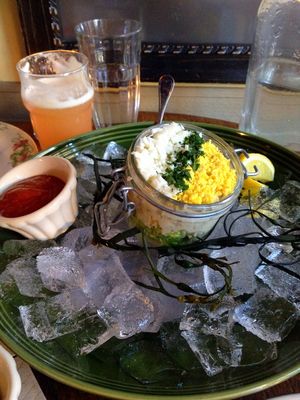 I wouldn't have chosen the dressed crab, two dishes were plenty, but it was more exciting than expected and not just because it was presented in an adorably farm-to-table glass jar, atop a bed of ice strewn with seaweed. The presentation transformed the crab-heavy salad, only cut with lemon-chervil mayonnaise and finely chopped hard-boiled egg, from a lady-like meal on a lettuce leaf into a heartier snack. It didn't really need the cocktail sauce.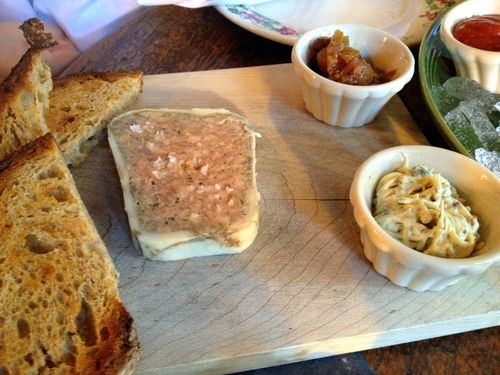 There were also curried devilled eggs and a chunky pork pate, good alone, but complemented by the celery root remoulade and pear and raisin chutney.
I did have a nice, gross-sounding sandwich, the Liveracci, at Paesano's in the Italian Market. Who would ever think to combine fried chicken livers, Gorgonzola, orange marmalade, onions, and salami? What the hell?! This beast essentially crams my favorite strong flavors, salty and sweet, in  into one package. It could only be topped by adding more spice or fishy funk (the liver accomplishes that angle nearly) but that might be going too far.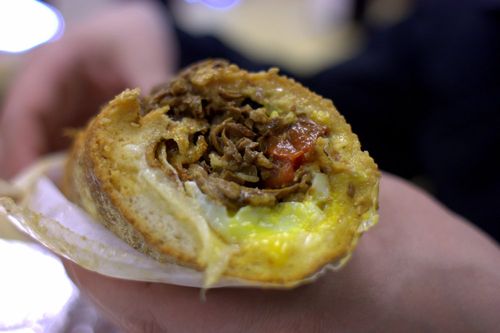 I did not try the namesake Paesano with its oozing fried egg, beef brisket, horseradish mayonnaise, provolone, and roasted tomatoes that apparently beat Bobby Flay in a throwdown.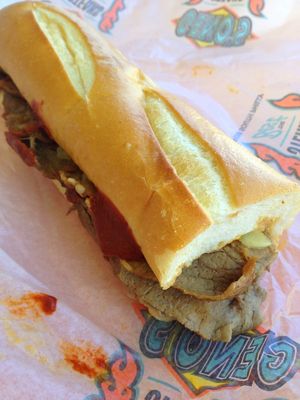 There was also Geno's for old time's sake. I always say I prefer Pat's, but are the two kitty-corner competitors really that different on sandwich alone? I did enjoy (cringed/ducked) witnessing the poor Filipino family who had the misfortune to ask the counter lady at, "What's good here?"
I also finally made it to Chink's, the old-school cheesesteakery with the most wholesome atmosphere and the most questionable name. In a way, it's more Philadelphia than either Geno's or Pat's could ever be at this point. Sit at the diner-style booths and play with the stuck-in-time personal jukebox filled with bands like Savage Garden and Marcy Playground.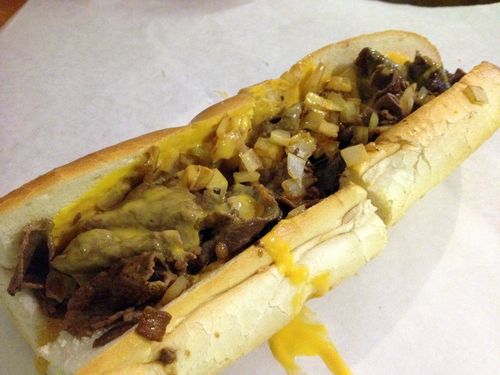 A large, with Cheez Whiz, of course. I know provolone is perfectly acceptable; it just melts down too much and isn't salty or gooey enough.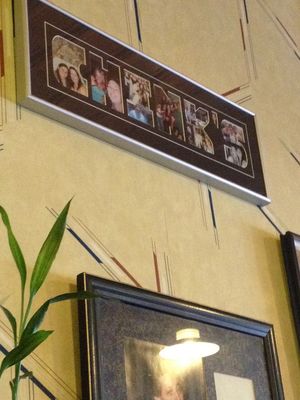 Chink's frame!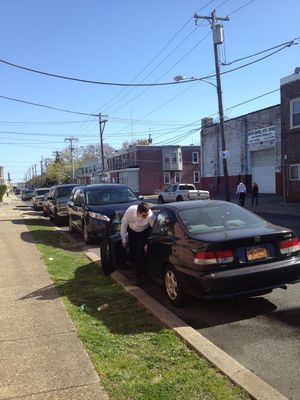 Possibly the best non-food part of going to Philadelphia is frazzling James with willy-nilly parking. In Portland, I always parked any which way on streets, as they do in Philly, too (and also park in medians, which is a little odd) but it freaks the hell out of James. I got him to park the wrong way by convincing him it was a one-way street even though it wasn't.
Federal Donuts is exactly the type of place I avoid like the plague in Brooklyn. Foodie-approved, crazy crowds, kooky ordering procedures, painfully long waits, and daily selling-out of provisions. If you show up at 11:45am when they start selling fried chicken, you'll miss out on 80% of the donuts they start selling at 7am. I wake up at 9am on a weekday, so there's no way in hell I'm getting up two hours earlier on a weekend, let alone while on a mini-vacation. The only "fancy" donuts left on our arrival were oatmeal raisin, for a reason (gross) and mandarin orange coffee, which was ok, but like coffee grounds had accidentally affixed themselves to a citrusy glazed cake donut. No pistachio halvah, banana chocolate, s'mores, or blueberry lemon pie, all still listed on the chalkboard.
The procedure is convoluted for a first-timer. You need to get a number, though no one tells you that for a while, there are just a bunch of people crowded around the counter, and you get a number for each half, so two wholes would equal four separate hand-written numbers on cards. After maybe half-an-hour your number is called and you pay, give your name, and specify your flavor: za'taar, chile-garlic, coconut curry, harissa, honey ginger, or buttermilk ranch, and then you wait another 10 minutes or so before your name is called and your chicken is ready. Phew. Yeah, the chicken is pretty good, though there's no need to ever do it again and it's doubtful I  would partake if I lived in the area. I'm just not a liner-upper and have no patience in life, probably because I'm about to become middle-aged and every second is increasingly precious.
Half chicken. If I knew the chicken was going to take 40 minutes, I would've ordered a whole instead. I went on a za'taar binge, having experienced the spice blend the night before at Zahav, chef Mike Solomonov, more formal, modern Middle Eastern restaurant. Earthy is a cop-out, but it is, and not a distraction from the simple charms of crispy fried skin. You also get a little plastic container of Japanese pickles and a mini honey glazed doughnut.
That I didn't take a single photo of the donuts (there was also an Appolonia, a granulated sugar and cocoa power-covered number, and a vanilla-lavender, two standards that are always in-stock) further proves my indifference to fried, sugared dough. No knock on Federal Donuts, I'm just not donut-crazed.
Chink's * 6030 Torresdale Ave., Philadelphia, PA
The Dandelion * 124 S. 18th St.,  Philadelphia, PA
Federal Donuts * 1219 S. Second. St., Philadelphia, PA
Geno's * 1219 S. Ninth St., Philadelphia, PA