Monte's

I had only been to Monte's Venetian Room, the so-called oldest Italian restaurant in Brooklyn that sat dormant for the past few years and was just reincarnated, once in its original state, probably around 2003. It was the last time I ever saw my stalker, an unstable former coworker (librarian, naturally) who originally seemed harmless because I thought he was gay and too old (late 30s, ha). I mean, it's not like I get a lot of stalkers so I had to get the attention where I could find it even though it needed to be nipped in the bud. After two mid-afternoon gin and tonics at Monte's bar, that was that was that.
On Friday night, half past nine, the bar was the liveliest section of the new room, Venetian mural removed, wood-burning oven installed. The two-for-one drinks advertised on the chalkboard outside probably had something to do with it. We had our pick of seats and choose a red booth mimicking the original the leather banquettes in the same shade.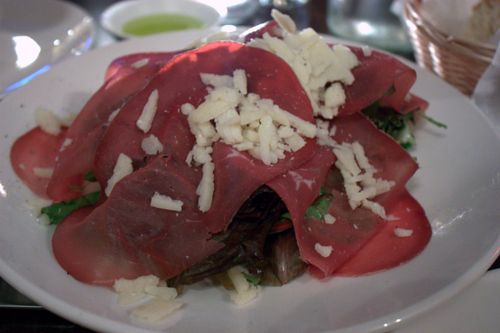 The arugula salad with lots of parmesan and thin slices of breasola was good and; the focaccia and crusty Italian bread was a nice accompaniment.
So, too was the diavola pizza, layered with sopressata, briny olives bound by a generous application of mozzarella atop a crust more yeasty than crackly. How did I become too distracted to take a photo? That never happens, which could be the sign that I'm finally weaning myself from rampant picture-taking. It really wasn't because I was concentrating on the food, even though the pizza was at least as good as anything else in the neighborhood.
That was the issue I got stuck on. Why was no one there on a Friday night? It's not the cuisine. Even though I think the area should put a moratorium on Italian food, I know I'm not the norm. South Brooklyn is teeming with similar reasonably priced antipasti, pasta, secondi restaurants and they're busy. I don't mean destinations like Frankies 457 or really Brucie, Rucola, Bocca Lupo or that ilk, but comparable spots like Savoia, the enoteca next to Marco Polo, Fragole. Even Red Rose, which always looks a little down on its luck gruffly turned me away a few months ago. Not a single free seat on a Saturday.
That leaves location as the problem. Gowanus, as much as I love it, isn't really Carroll Gardens or Park Slope. There's not a lot of foot traffic, hence no potential spillover from neighboring restaurants. I've always thought much of Smith Street's popularity was due to the volume of restaurants, not necessarily the food quality. It looks bustling; people want to go. And if one place is full, you pick another Thai/Sushi/Italian/Small Plates option.
(Part of the reason I forgot to take photos was because when I saw James' orecchiette I brought up Gabrielle Hamilton's Blood, Bones &  Butter because I had just reached the part where she was making that pasta in Italy and I then started going off on a tangent about how had described Smith Street as "that minor-league stretch of Brooklyn that always disappoints," which I wouldn't disagree with. Then she lost me with the following overblown inaccuracy: "I would rather starve and kill my children—Medea-like—than eat the truffle oil omelette with chorizo 'foam' and piquillo peppers at Soleil or Blue Bird or whatever those restaurants are called…" Twee names maybe, but Spanish flourishes, foam and truffle oil are totally foreign concepts in the vicinity.)
Luna Rossa, at the butt-end of Court is in the same situation as Monte's. They both have similar menus and aren't grabbing attention on a non-prime block. I think people just go to Luna Rossa because they have a back garden. Perhaps, Monte's could work the not-yet-realized patio beer garden mentioned in the press. I'm not sure what the solution is, but you have to stand out.
One of the owners happened to be picking the brains of a young couple at the bar that had replaced the earlier, raucous crowd of locals. Are Open Table, Seamless Web, foursquare and email marketing blasts worth it? How to get on "foodie blogs?" Ostensibly, I work in digital marketing (and even wrote a report called Digital Dining: Chain Restaurants Add Social Media, Mobile to the Menu) but frankly I don't feel comfortable giving advice because it would only be something obvious and generic like create a quality product and people will come to you. That's as obnoxious as book deal bloggers talking about cream rising, passion, doing what you love and the money will follow, blah, blah.
I might try to capitalize on Monte's history rather than coming in as just another Italian-American restaurant in an area thick with them. Keep the pizza, add updated classics, Rat Pack era cocktails or even modern cocktails with Italian flourishes–Fernet Branca is in, right? It could be pulled off by someone with a sharp aesthetic, but it would be tricky to avoid crossing over into kitsch or alienating whoever this target audience is supposed to be. Astor Room hasn't been wildly successful with this approach, though, so I will zip it now.
Monte's * 451 Carroll St., Brooklyn, NY