Cheek By Jowl
It's not that surprising that the warren of tiny makeshift living spaces captured by The New York Times is populated by Chinese.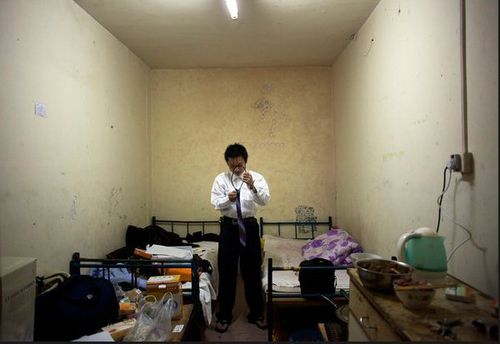 Just a few months ago the newspaper published a similar feature about the "mouse people" of Beijing. At least they have ceilings.
If you need any further proof of China's boom and NYC's extremes, look at the prices: $80 in China's capital versus $100-$200 at 81 Bowery. I guess that makes Manhattan's cubicle homes a better deal?
It's certainly not an unheard of dwelling style in China and Hong Kong, and probably lots of other places around the world. Photographer Michael Wolf's photo series, 100×100, captures residents of the 100-square-foot rooms of Hong Kong's oldest public housing complex (since torn down).
I'm impressed that cooking is still given consideration. Even in such abbreviated space, most seem to have a rice cooker, mini-fridge and teapot, many also with hot plates or microwaves. I probably shouldn't complain about my typically scrunched Brooklyn-sized kitchen again.
Photo credits: Annie Ling/NYT, Sim Chi Yin/NYT, Michael Wolf