International Palate Abuse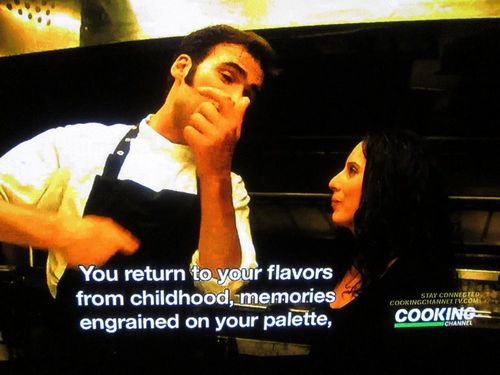 I'm happy to see there is a travel/food show about Spain (I don't really count that Batali/Paltrow thing) and one that fittingly kicked-off with an episode about the Basque country. Mugaritz and Arzak, representing, of course.
But From Spain With Love had to go and rile me up by abusing palate in a subtitle translation. I'm admittedly horrible at understanding conversational-speed Spanish, so I replayed this scene at least ten times straining to hear either paladar (palate) or paleta (palette) and didn't catch either, just blah blah, memories, dishes, blah, blah familiar flavors. I'll get over this one. My Spanish grammar is shit too.
It's very strange how the word palate works its way into so many parts of my day, though. While reading two disparate blog posts within ten minutes of each other–one from Grub Grade about the new Wendy's Berry Almond Chicken Salad, and the other on Diner's Journal about Masa's lost fourth star—two commenters on each site misused palate while criticizing the author's word usage.
The Grub Grade commenter said that "mouthfeel" makes him cringe and then went on to say "you have quite an educated palete my friend." Kind of minor in the scheme of things. It's a $6.49 salad (which was causing nearly as much sticker shock as Masa's $450 prix fixe).
However, the Diner's Journal example was egregious.
Oh, and next food reviewer to use the word "unctuous" when describing eel or sea urchin must stand in the middle of Times Square when it hits 114 degrees outside, with a begging cup and a sandwich board that says "Will Write for Thesaurus." Sea urchin and eel are creamy, funky, melty, smooth on the palette, etc etc etc. There, I just saved you.
PALATE. There, saved you.