Lotus of Siam Las Vegas

Manhattan's Lotus of Siam has been getting a lot of buzz. I liked it well enough, but I won't be surprising anyone if I said I like the Las Vegas original much more. Even if the food served at is exactly same, it's difficult to separate flavors from context. Sure, it's a bit too obtusely Chowhoundish to posit that cheap, out-of-the-way and shabby is inherently better than upscale, accessible and comfortable. In this case, however, it's just the truth.
For the same reasons I prefer downtown Las Vegas over The Strip, spicy larb and a bottle of Josef Leitz Rudesheimer Magdalenenkreuz from a storefront tucked into a sprawling half-empty strip mall that's populated by Korean bbqs, a wig shop, a country western gay bar and churches of all denominations, just has more charm than when served on Fifth Avenue.
Onto the northern larb. One byproduct of being in a lengthy relationship is that old married couple roles start emerging even if you're neither old nor married. This is how a meal might unfold:
"This tastes Chinese."
"That's what you said last time."
"I've never eaten this before."
"Um, yes we have. Do you want me to pull up a photo?"
Here we go again. The conflict of not-paying-attention butting up against the know-it-all. I used to think I had been blessed with a good memory, but more and more I realize it's pretty crappy and selective (friends will bring up things I did or said a decade ago and I will have completely forgotten). Food-wise, though, I always remember what I've ordered previously. One of the benefits of maintaining a food blog, even if few read it, is that you have a virtual record of meals past.
The northern larb is often noted as differing from the more common Thai larb in that it doesn't use lime juice. It's not tart, and it does indeed have a Chinese undercurrent that's reminiscent of five spice powder. Maybe it's soy sauce? The ground pork is definitely stained darker than in typical versions.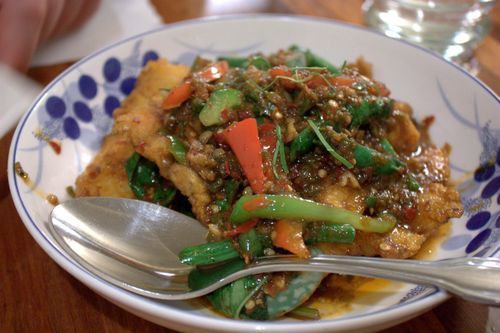 Catfish fillets in red curry because the whole fish they had that night, while tastier with fried skin and bones, was too large and pricey for two.
Moo dad daew, a meaty snack that's described as jerky but much less desiccated and fattier than the American version.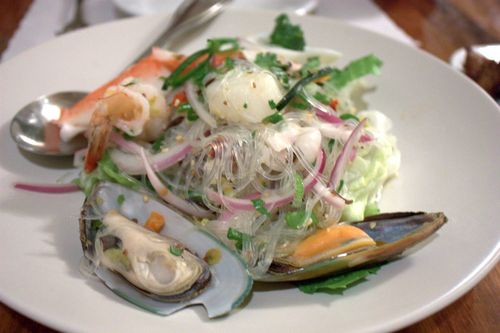 Yum woon sen seafood. Salads tend to be where you really feel the heat and are a good test for a restaurant's spicing level. At Lotus of Siam you can choose from one to ten. This is an eight, which I thought was perfect. It was fiery but not painful and still let the shrimp, scallops, mussels and squid have a presence.
I've been thinking about a second-hand comment (do I even need to mention that it was from Eater?) that took issue with my disappointment over the mildness of the green curry at Lotus of Siam New York, insisting that gaeng keow wan is not supposed to be spicy. I'm aware that not all Thai food is rife with chiles and that not all Thais enjoy crazy heat. My newish Thai coworker has complained that Sripraphai has made her food too hot despite requesting medium heat and our waiter at Lotus of Siam in Vegas said that he eats a level six. But not-fiery isn't the same as bland, which was exactly what I was served in Greenwich Village. Dullness was never a problem during this meal. And if I return in another two years, I'll be certain to remember a third encounter with northern larb.
Lotus of Siam * 953 E. Sahara Ave., Las Vegas, NV