Fireside Lounge

As easy as it is to poke fun at the increasingly cliched mixology trend (do you need me to make a waxed mustache or suspenders reference?) Vegas could use a little creativity with their cocktails. Well drinks were $11 in most glitzy casinos (yes, you can drink for free if you gamble long enough, but I don't), a dollar more might get you a sweet and/or fruity drink in a lounge where you can reserve VIP bottle service tables online very democratically. The one time I attempted to order a specialty Manhattan (at the Aria), the bar ended up being out of the advertised fig-and-vanilla-infused bourbon.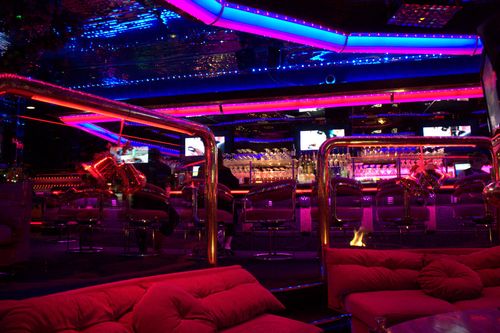 I also played faux-anthropologist and checked out a "hipster bar," The Griffin, on the edge of downtown, on the same block as the Vegas outpost of Beauty Bar, which was closed on a Sunday night (the same thing occurred the night before at Raku, a much lauded Chinatown izakaya that's supposed to be open till 3am on weekends but was dark at 1am). The H-word means many things to many people. Here, it meant girls doing "birthday cake" shots (Absolut Citron and Frangelico, which I gathered from the bartender pouring a steady stream of them during my brief vist), men with gray mustaches in leather jackets, others in football jerseys and a few dudes in skinny jeans with bushy hair. One drink was plenty.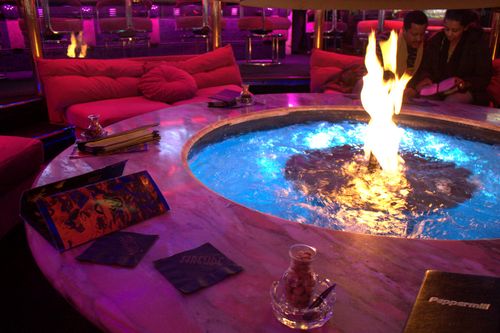 The Fireside Lounge (in the rear of the Peppermill restaurant) I knew to be safe haven and it did not disappoint. Chrome, black gloss, neon and flames blasting from a pool of water circled by red, squishy seats, this is the kind of bar I could imagine being the height of cool when I was a kid. I see it and think waterbed. There's certainly no small batch moonshine or hand-crafted bitters on the'80s photo menu showcasing tequila sunrises, pina coladas and something new-to-me called a pancho villa.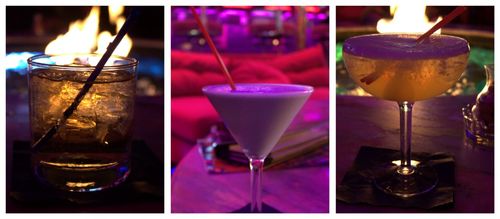 I hesitantly asked for grasshopper. Wrong era? Our waitress, a young Eastern European in the black high-slit evening gown uniform, seemed incredulous, "Of course we make grasshoppers." Finally, I could relax. The Fireside Lounge likes using the blender, pre-made mixers…and the drinks are kind of weak, yet I highly recommend the experience for the fireplace alone, especially if you happen to be around when rare snow flurries begin blanketing Las Vegas.
Fireside Lounge * 2985 Las Vegas Blvd., Las Vegas, NV