Alpenhaus

After so much gravy and fries, I just wanted something light and fresh like…fondue. Ok, what I really wanted was something old fashioned and festive. Alpenhaus more than met my needs.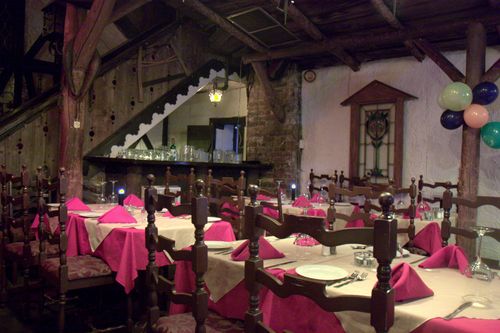 Fondue is a confusing dish, though. I treat it as an entrée (American entrée, not entrée meaning appetizer like in the rest of the world including Canada). But it's always on a menu with other big dishes, whether veal cordon bleu at a traditional restaurant or heritage pork cassoulet at a more modern one. Are you supposed to treat it as a starter? At Pain Béni in Quebec City (which I'm not blogging because I'm trying to be more restrained) a group ordered cheese fondue as dessert, which isn't a bad idea.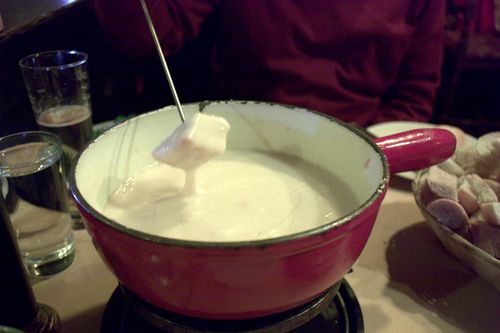 I've never encountered a fondue for two as massive as the three-inches of melted Emmental and Gruyere that was presented to us in this weathered, red crock. We were warned against ordering a rosti and the large cheese-and-sausage heavy salad, and I can see why.
Nonetheless, the male half of a couple sitting nearby yelled out to the waiter, "Yes, now I do want the wienerschnitzel!" implying that his original order had been tamed, as well. He got his veal cutlet.

And we ordered the Alpenhaus salad anyway.
Alphenhaus * 1279 Rue St-Marc, Montreal, Canada