Tadich Grill

Tadich Grill, said to be the oldest restaurant in San Francisco, reminded me a bit of the Grand Central Oyster Bar. It's certainly not as loud and sprawling, but it's a seafood-centric icon, not as inexpensive as the surroundings might suggest, and favored by both tourists and commuters.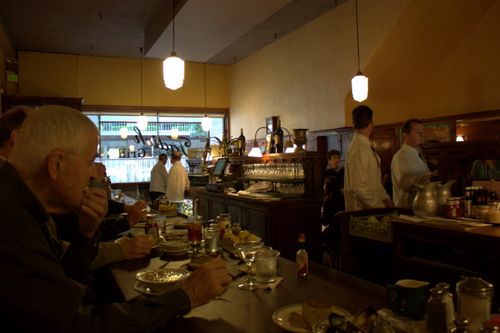 During my late lunch at the bar, solo men close to retirement age and older with a newspaper and a martini for company, filled empty counter seats on my right and left. They were there for dinner, seemingly clocked out at five on the dot. It could've been 1960 or 1980; the only thing missing being clouds of cigarette smoke.
This is the San Francisco that I enjoyed the most, not the local, seasonal ethos that's an obvious culinary draw, but lazing about in eateries that haven't firmly settled into the twenty-first century yet. Just a few hours earlier at proper lunch time, I'd taken in the bar scene at Fishermen's Grotto, another reassuring time capsule.

Cioppino is a big thing at Tadich Grill, but it's not what I ordered.

Sand dabs (or sanddabs, depending) are a regional flat fish. I just liked the sound of their name. Served breaded and pan fried, drizzled with a thin white sauce (homemade tartar sauce on the side), steak fries (my enemy) and institutional steamed cauliflower and broccoli, my meal could be construed as bland and geriatric—at least in comparison to how I might normally prefer my seafood.
But this is exactly what I'd want to be served at a 161-year-old restaurant. Just as a Harvey Wallbanger would be appropriate at Eddie Rickenbacker's and nearly no place else. It's just the way it's supposed to be.
Tadich Grill * 240 California St., San Francisco, CA