Preview: Graffit
There's still a lot of hubbub surrounding Spanish food (or have we moved on to Scandinavia?). Yet, for such a de moda cuisine, there are many swaths of the city lacking a single Spanish restaurant, modern or traditional. I can't believe it took until last week for South Brooklyn to get a tapas bar (no, La Mancha doesn't count).
Maybe I'm geographically biased, but the dining diversity on the Upper West Side has always felt a bit bleak. That's why it's surprising that Spanish chef, Jesús Nuñez, has decided to open his first New York restaurant on W. 69th Street. Known for deconstructions, playful presentations…and a penchant for graffiti art (hence, the name, not to be confused with Jehangir Mehta's Graffiti) hopefully his vision will translate in this staid neighborhood.
This is a preview of what Graffit will be serving when they open in November. As this dinner was hosted at Compass, chef Milton Enriquez contributed dishes, as well. Free food clouds one's judgment so this is by no means a review. Just the facts. I will say that I would likely return on my own. Mercat, Txikito, Casa Mono and countless other tapas bars are justifiably popular, but I would say that we haven't had a creative full-on Spanish restaurant since Ureña.
Fuji Apple, Endive Salad
Greek yogurt, manchego, tangerines, pistachio vinaigrette
Carabinero, Langoustine and Prawn Carpaccio
Saffron Cream, Sauce Américaine, Olive Oil Gel and Sea Dust
I wasn't going to editorialize, but this was my favorite–so much color and flavor crammed into such small surface areas.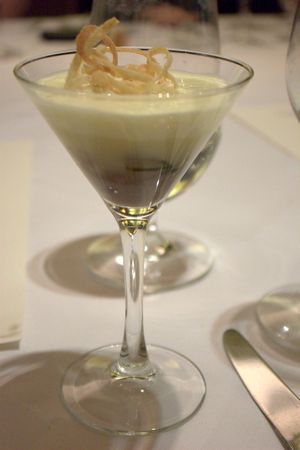 Potato + Onion + Egg = Tortilla de Patata
Hudson Valley Foie Gras
Meyer lemon curd, brussels sprouts, porcini mushrooms, toasted pinenuts, 50 -year old balsamic
Pan Roasted Dover Sole
Sunchokes two ways, poached hen egg, white truffles, parsley beurre blanc, osetra caviar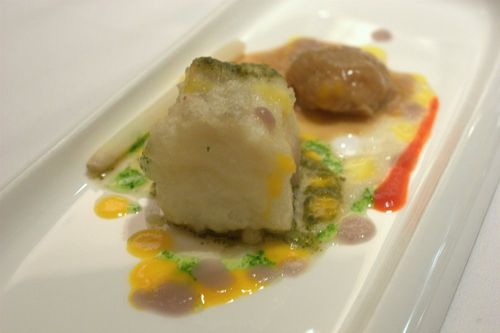 Bacalao in salsa verde, kokotxas, traces of bell pepper
I also like the use of mauve and bisquey earth tones, which aren't intuitively appetizing.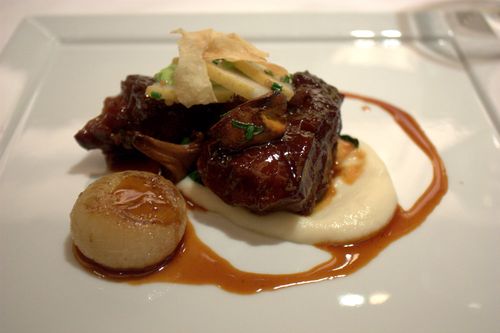 Braised Veal Cheeks
Celeriac, chanterelles, cipollini onions, mustard asian pear salad
Venison
Chestnuts, Wheat Risotto, Lentils and Pumpkin
More of those flesh tones–and lavender micro cauliflower. Yes, I'm a sucker for unnaturally colored food.
"Orange Julius" jasmine granite
Piña Colada
Curry scented pineapple sorbet, coconut bubbles
Molten chocolate buñuelos on a canvas of colors, flavors and textures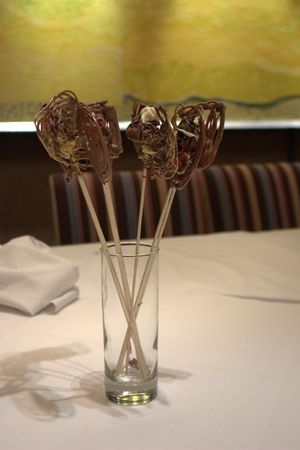 More lilac hues. A fitting send-off.
Graffit * W. 69th St., New York, NY