Bud's Hut

I now understand the fear of the unknown and how it drives suburbanites to chain restaurants. It's one thing if you live in a metropolis rife with thriving unique eateries or dwell in a cutesey smaller city like Portland (my favorite whipping boy) where the indie ethos is pervasive. Local is likely better. But when franchises are the norm, as with most of the New Jersey townships within an hour's drive from NYC, non-chains can be a scary prospect. Just what are you getting yourself into?
For years, I've had a fondness for the US Route 1 corridor spanning Linden to Edison. There is not a single mall store or chain restaurant you can't find along this strip. I particularly like the northern chunk just off the Goethals Bridge because it reminds me of 82nd Street in Portland, or at least the 82nd Street of my youth.
I intentionally drove along it all the way to Clackamas Town Center last Labor Day weekend instead of taking the freeway (I love saying freeway, not turnpike, expressway, parkway. It's free!) and it still appeared to be a blur of car dealerships, taverns, motels, thrift stores, vendors selling rugs out of vans. No gentrification yet (Portlanders aren't so desperate and crushed by rent prices to expand the borders of acceptable neighborhoods into the hinterlands—right before I moved to NYC I lived on 55th and Glisan and that was really pushing it, 39th being the invisible line between cool/uncool neighborhoods) just new unexpected businesses like a drive-thru banh mi shop.
Along this multi-laned road sits Bud's Hut, a sullen, windowless, dark wood anomaly that would be just at home in the Pacific Northwest. Its impenetrability implies bar or something more illicit, but it's advertised as family friendly. In the three-second glimpse I get in the passenger seat, there never appears to be many cars in the parking lot. There is no hint that it's a dive harboring a specialty like Rutt's Hut, the better known New Jersey establishment sharing half a moniker. In this era of user-generated content, not a single peep online only made me more suspicious. A restaurant untouched by Yelpers and Foursquarers?  I'd have to take matters into my own hands the old fashioned way.
Saturday at 9pm James and I met up with three others that I'd coerced into solving the Bud's Hut mystery. It actually wasn't all that mysterious, as a member of this party only lives a few towns over and had been before, some time ago (and got food poisoning).
The décor was more nautical than I'd anticipated from a hut, a little '70s colonial with firm sweepable carpet, faux Tiffany lamps and boats and ships galore. Not seedy, just faded.
Only two other tables were occupied in the dining room and soon enough we had the place to ourselves. Our friendly waitress, who was as interested in the new Dee Snider reality show as we were, announced, "You can be as rowdy as you want now." After a few glasses of Yellowtail Shiraz, I was getting there. And really, Bud's Hut is probably better suited for drinking. The bar and outdoor patio still had decent crowds when we left.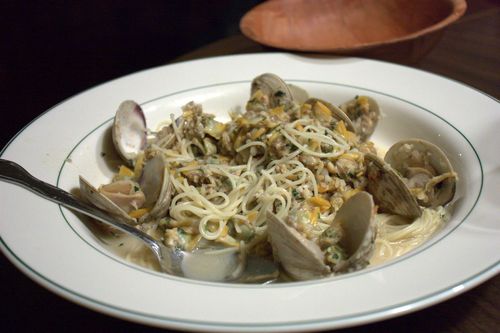 The menu is based on favorites: steak, seafood…and a bloomin' onion with Italian-American staples like chicken parmesan and linguini with clam sauce (I think that's actually angel hair pasta). Garlic crabs, another New Jersey Italian thing, were also being advertised but cracking crustaceans is always such a hassle and better suited for the outdoors.
We started with Bud's Triangle, which is to say, a trio: loaded potato skins, mozzarella sticks and chicken fingers just like you'd find at a chain restaurant. Bud's Hut is a little Outback Steakhouse and a little Red Lobster with prices in the same range. They also have a mud slide on the drinks menu, so I'll add a dash of T.G.I. Friday's for good measure.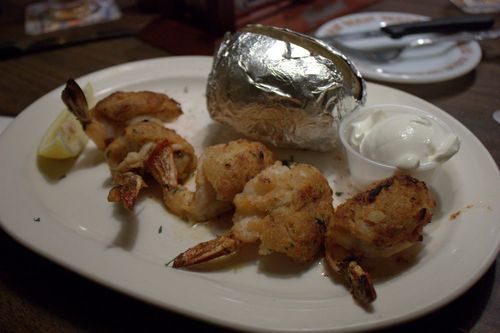 I had the stuffed shrimp, split and packed with buttery breadcrumbs and crab, and a baked potato with butter and sour cream because that seemed like the thing to do. I only eat baked potatoes in restaurants like this. The only thing missing was the bacon bits.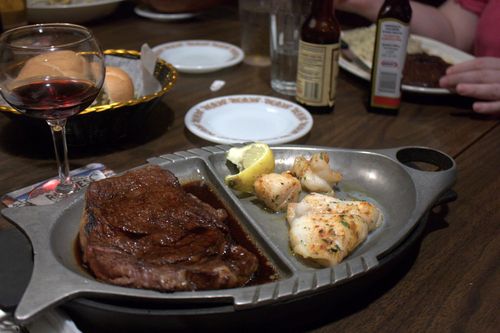 A steak and seafood combo served on an iron fish-shaped plate.
A bull memorialized in stained glass.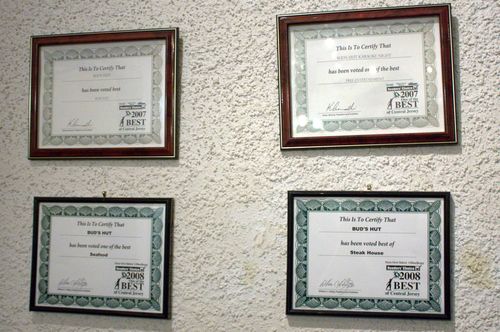 While the latest Best of Central Jersey awards are littered with chains, Bud's Hut appears to have swept a few categories in 2007 and 2008.
The parrot kind of breaks with the maritime theme. He would be more on trend at Cheeseburger in Paradise, a little farther down Rt. 1.
Bud's Hut * 906 US Rt. 1, Avenel, NJ