St. Anselm

The problem with bars that serve food that garner raves is that seats are often a hot commodity. The much yapped about fried chicken and cheeseburger just weren't going to happen when I popped into The Commodore last week. I'll have to return at an off hour.
St. Anselm, across the street, was completely the opposite. They had open tables galore because their lack of a liquor license pushes everyone who wants to drink into the shared back garden with Spuyten Duyvil.
I was intrigued and a little intimidated by the initial menu that had been floating around. Meat on meat extremes like bone marrow poppers, foie gras, pierogies and beer battered brains. But in practice, the only oddball item on the blackboard was veal heart jerky. The restaurant has emerged as a full-blown New Jersey junk food joint.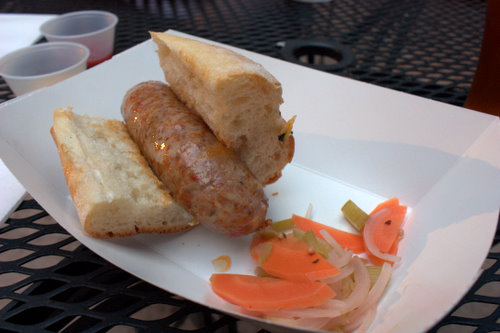 Awesome in a way, but for the third time in very recent history I have been faced with my nemesis, the hotdog. Luckily, there was a World Cup-themed list of sausages to choose from. I went for Spain's butifarra (not a blood sausage, sadly) served in a simple crusty roll with mustard. Very restrained.
I didn't think I could handle the Newark dog served with a deep-fried Karl Ehmer frankfurter in addition to another sausage of your choosing, stuffed into pizza bread along with batter-fried pepper and onion strands and a fistful of fries. I ordered one for James, though, and forgot to ask for gravy. We were trying to determine if they meant brown gravy (I'm 99% sure, yes) or "gravy" in the Italian-American sense, meaning marinara. He was so obsessed that he brought his monstrosity back inside and asked for gravy to be added. No can do.
For ages we've been meaning to hit up Jimmy Buff's and all of the classic New Jersey Italian hot dog purveyors on their home tuff. Thanks to Hank Krall's comprehensive round-up on Serious Eats last week, I feel less urgency for an in-person sampling. My stomach thanks him.
St. Anselm * 355 Metropolitan Ave., Brooklyn, NY